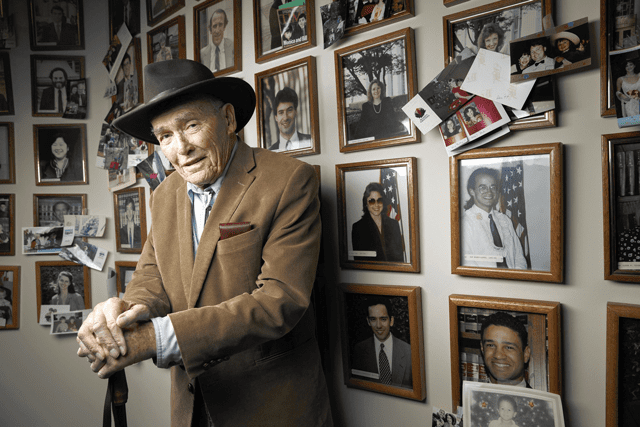 Remembering a dear friend of The Salvation Army
Judge Harry Pregerson fought for good and justice until the very end.
Senior Circuit Judge Harry Pregerson, 94, died Nov. 25, 2017, after a brief illness. He passed surrounded by family at his home in Woodland Hills, California.
A decorated World War II veteran who attended law school on the G.I. Bill, Pregerson's legal career spanned more than six decades. As a federal judge for nearly 50 years, he was responsible for many important and far reaching decisions at both the trial and appellate levels. He made no secret of letting his conscience guide his jurisprudence and was undeterred by higher court reversals.
Born to Ukrainian immigrants, Pregerson was raised in East Los Angeles, attending public schools there. During World War II, he enlisted in the Marines and underwent officer training. In 1945, his Marine company was among the U.S. forces to invade the Japanese island of Okinawa, the last great battle of World War II. He was seriously wounded in both legs, requiring a long recuperation. After the war, he resumed his education, earning a bachelor's degree from the University of California, Los Angeles, in 1947, and his degree in law from the University of California, Berkeley, Boalt Hall School of Law, in 1950.
Prior to coming onto the federal bench, Pregerson had served as a judge of the Los Angeles County Superior Court, from 1966 to 1967, and Los Angeles Municipal Court, from 1965 to 1966. He had been in private practice in Los Angeles and Van Nuys, California, from 1951 to 1965.
In 1979, President Carter nominated Judge Pregerson to fill one of 10 new judgeships authorized to the Ninth Circuit Court of Appeals. He was confirmed by the Senate on Oct. 31, 1979, and received his judicial commission on Nov. 2, 1979. He served as an active judge for 36 years, assuming senior status on Dec. 11, 2015. At the time of his death, he ranked sixth in years of service to the court.
Off the bench, Judge Pregerson worked tirelessly on behalf of the less fortunate in his native Los Angeles, particularly for veterans in need. In 1988, Pregerson founded The Salvation Army Bell Shelter, after recognizing a critical need for more emergency shelter in Los Angeles County. Six years later, he helped start The Salvation Army Haven program for veterans. In 1989, Pregerson, assisted by then Los Angeles Mayor Tom Bradley, started The Salvation Army Westwood Transitional Village, which supplies furnished apartments for homeless families. Also on that property, the Bessie Pregerson Child Development Center provides licensed child care for families at the Village and in the community.
Louise Oliver, then deputy director of real property operations for the U.S. General Services Administration (GSA), worked closely with Pregerson on finalizing plans to secure several properties for The Salvation Army, including Bell Shelter and Westwood Transitional Village.
"He was just totally selfless—passionate about everything. He lived a life committed to doing good by other people," she said. "And he was always very proud of the relationship that he forged with The Salvation Army."
According to Southern California Divisional Commander Lt. Colonel Kyle Smith, tens of thousands of individuals have been helped through The Salvation Army because of the efforts of Pregerson.
"He was on a crusade to help others just like our founder, General William Booth. I think they would have got on very well," Smith said. "I truly appreciated and respected the Judge and will miss the hourlong phone calls. He was a good man."
Commissioner Kenneth G. Hodder, Western Territorial Commander, remembers meeting Pregerson soon after he and his wife arrived in their first corps appointment. While Pregerson was always supportive and encouraging, there was never a single conversation in which he did not challenge the Hodders to do more.
"Judge Pregerson believed that if any of us simply choose to help someone else, we can," Hodder said. "He knew that the law was one tool for doing just that, and when he combined it with a spirit of mercy, the law became justice."
One of Hodder's fondest memories of Pregerson took place at Bell Shelter a few years later.  
"I shall never forget watching him, an honored member of the U.S. Court of Appeals for the Ninth Circuit, as he sat at a rickety old table with a large stack of files piled up next to him. One by one, homeless men who had committed a variety of petty offenses stood up to face him. Without fail, the Judge told each one that they could do more, that they could be more in life, and that if they would commit themselves to the Army's program at the Bell Shelter, he would not send them to jail. It was moving. So many lives were changed that day."
Originally from Great Britain, Russ Prince worked as Development Director for the Southern California Division when Pregerson's relationship with the Army began. Prince said his years in that position, working often with Pregerson, were the highlight of his 35 years of Army experience in the U.S.
"I will never forget him and what he's done," he said. "In essence, he echoed William Booth himself: 'Go for souls and go for the worst.' He was an inspirational guy with a lot of influence because of his position as a judge—he could do things others couldn't. He had a great interest in the less fortunate and in the work of the Army, and he used his power and influence in very dramatic ways. He was a brilliant man."
Just a few weeks before Pregerson's death, Oliver had lunch with Pregerson, Hodder and Smith at Pregerson's home. It was there that Pregerson expressed a regret.
"What amazed me is that even then he was still working on getting funding for programs that he cared so much about," Oliver said. "One thing he said was that he was sorry that he didn't have time to finish everything that he wanted to do. He expressed regret that he didn't have much energy left to help people.
"We assured him that we would carry on."
Pregerson is survived by his wife of 70 years, Bern; a son, Senior District Judge Dean D. Pregerson of the Central District of California, and his wife, Sharon; a daughter, Katie Rodan, and her husband, Amnon; three grandchildren, Bradley Pregerson, Elana Schuldt and Daniela Rodan; two great-grandchildren, Ella and Harlan Schuldt; a brother, Jim; and sister, Diane Glazer.
A celebration of life service was held Dec. 1, 2017, at the Shrine Auditorium in Los Angeles. In lieu of flowers, the family suggested contributions to GrowGood, a nonprofit urban farm that provides organic food to The Salvation Army Bell Shelter.
Donate to GrowGood online at app.mobilecause.com/vf/growgood.