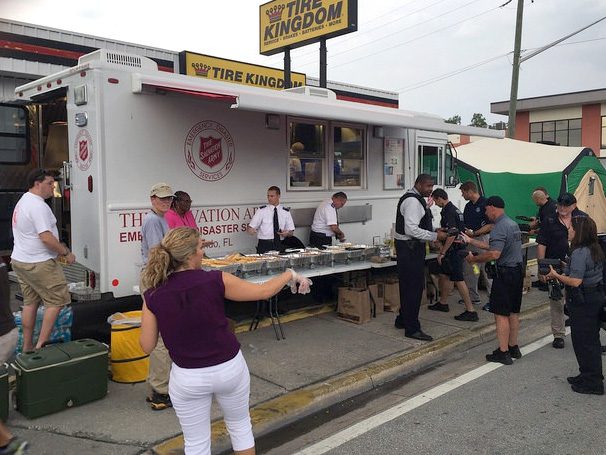 Reflecting on service in Orlando
Area commander shares his perspective
By Ted Morris, Major –
Our emergency disaster services (EDS) canteen team often participates in drills and scenarios in the Orlando, Fla., area in preparation for events such as this, however there is definitely a different feeling in knowing that less than 100 yards from where we are serving food, the office of the Medical Examiner is trying to identify victims of a terrorist attack after the shooting at Pulse nightclub that left 50 people dead and many others injured.  
As I drove home from the site on that first night, even the sky above downtown seemed to be a bit darker than usual. Orlando will get through this, however the scar will probably never disappear.
Those who received the food and hydration we offered were the first responders and members of various city, state and federal agencies. Although they were all very professional, we found that when walking up to the canteen to pick up a drink or a meal, many seemed to relax a bit from their grueling tasks. Some even used it as a gathering place of sorts.
At various times throughout the day, we would roll a cooler of bottled water in ice and offer the bottled water to those police officers guarding the streets around the incident site, as well as the FBI agents and others on duty.  While doing so, I felt extremely blessed to be a part of The Salvation Army and to be entrusted with bringing some light into the lives of these men and women.  
Without exception, they expressed appreciation to The Salvation Army for "being here" for them. I can think of no more poignant way of demonstrating the ministry of presence, than this!