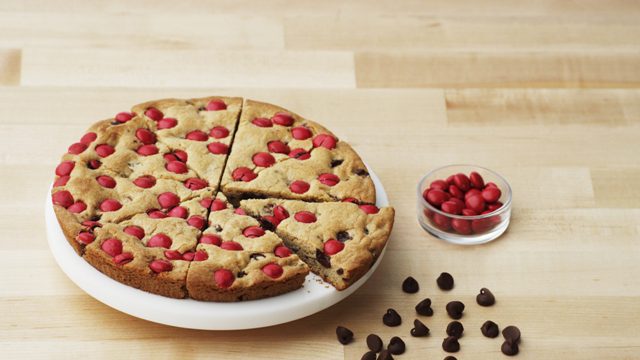 Papa John's sells Red Kettle Cookie
The company will donate 50 cents of every cookie sold
Papa John's Pizza partnered with The Salvation Army this Christmas season, adding the Red Kettle Cookie to its menu.
A holiday twist on Papa John's popular Chocolate Chip Cookie, the Red Kettle Cookie is available for sale today until Dec. 28. The company is donating 50 cents per cookie sold, up to $300,000, to support The Salvation Army's programs, including food, shelter, addiction recovery assistance, after-school programs and many other services for Americans in need.
Additionally, supporters who donate to The Salvation Army via RedKettleReason.org will receive an offer code for 25 percent off their purchase.
"Papa John's has been an incredible partner to The Salvation Army over the years and we are grateful for their continued support, particularly during our most crucial fundraising season," said Lieutenant Colonel Ron Busroe, national community relations and development secretary for The Salvation Army. "The money raised by the sales of the Red Kettle Cookie will help The Salvation Army continue to make a positive impact in the lives of those in need year round."
Papa John's has a history of helping The Salvation Army. In the last two years, the company raised $50,000 in support of Army feeding programs, supported Emergency Disaster Services (EDS) relief teams in Moore, Okla., raised donations via an Online Red Kettle, and has volunteered several times to revamp Salvation Army facilities.
Find a Papa John's Pizza in your area.