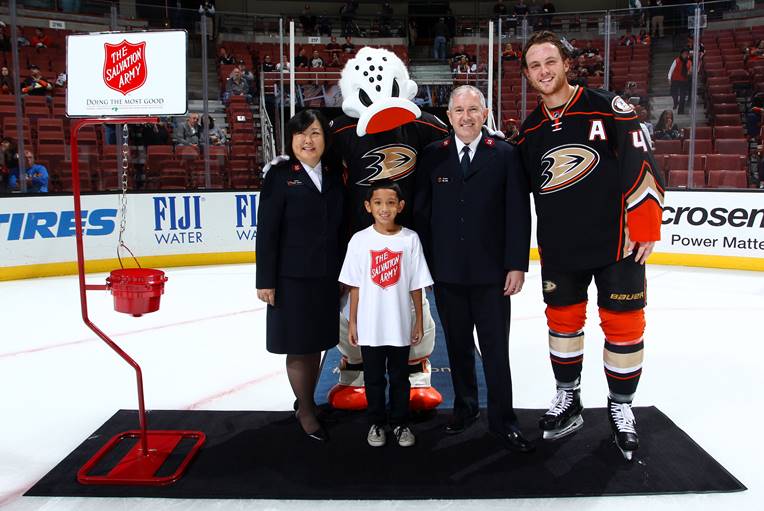 Red Kettle season begins at Honda Center for Orange County
Orange County kicks off Red Kettle Campaign at the Anaheim Ducks' Honda Center for the 18th year
For the 18th consecutive year, the Salvation Army of Orange County launched its official 2016 Red Kettle Campaign at the Honda Center during the pregame show of the Anaheim Ducks and the Arizona Coyotes NHL game on Friday, Nov. 3.
Captains Nigel and Stacy Cross (Orange County Coordinators) along with Aiden Gregory, youth representative of the Tustin Ranch, walked out with Ducks' mascot Wild Wing onto the red carpet to greet defensive player Cam Fowler at the historic red kettle on the ice. Fowler made the first donation of the season for Orange County on behalf of the Anaheim Ducks.  
"This is a really fun event for all of our programs to be here," Captain Stacy Cross said. "It's a great way to start the Red Kettle season, which gives us the resources we need so that all of our programs can best serve individuals and families who are in need within the community throughout the year."
The Salvation Army's Red Kettle campaign raises funds to provide food, clothing, shelter, and services to millions of Americans each year. In 2015, The Salvation Army of the United States had a record-breaking year, collecting $144 million in donations nationwide.