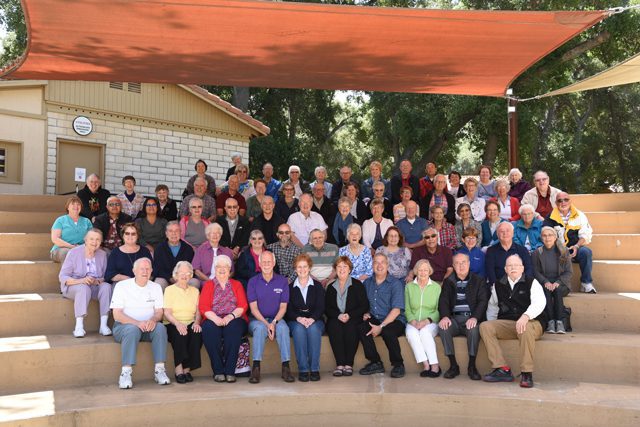 Recap: 2019 Retired Officers Retreat
'Encounter' retreat focuses on worship, Bible study and fellowship.
The Salvation Army West-Retired Officers Association (SAWROA), held its 2019 Western Territorial Retired Officers retreat themed "Encounter" May 2–5 at Mt. Crags Camp in Calabasas, California.
Seventy retired officers from all of the Western Territory's divisions gathered for fellowship and a time of Bible study and worship at the annual event.
National Commander Commissioner David Hudson and National President of Women's Ministries Commissioner Sharron Hudson were visiting leaders at the retreat. In Thursday's opening session, David Hudson shared his first message that focused on King David's love for the Lord and his willingness to dedicate his life to his service.
"David was first and foremost available to God," Hudson said. "God's opportunities are sudden and often surprising. We have to be ready."
The opening session also included a presentation by Territorial Commander Commissioner Kenneth G. Hodder and Territorial President of Women's Ministries Commissioner Jolene Hodder on the state of the Western Territory, ranging from information about the financial health of the West to the vision to double the Army's impact on homelessness within the next five years.
"The Way Out is the heart and soul of our effort now to re-engage with the communities in which The Salvation Army serves across the Western Territory," Kenneth G. Hodder said. "The Salvation Army is unequal in its ability to reach people at every part of the journey of homelessness."
Sharron Hudson provided devotions each morning that focused on the 48 names of Christ and their meaning. Lt. Colonel Michele Lescano, Women's Auxiliaries Liaison for San Diego County, led a Bible study each day of the retreat that focused on encountering God in creation, through his Word and with our hearts.
On Friday evening, David Hudson shared what The Salvation Army is accomplishing in other parts of the world, particularly in developing nations. The Salvation Army World Service Office (SAWSO) provided financial support and leadership in special projects in 50 countries last year. These projects include building homes, helping women start small businesses and purchasing supplies for programs.
The Saturday evening program was "An Evening with Ivor and Janette Bosanko," featuring music composed by Ivor Bosanko, who set the tone by saying, "I can put notes on paper but I have to depend on others to make it music."
The Bosankos led retired officer musical groups throughout the weekend, with Ivor Bosanko leading the band and Janette Bosanko leading a songster group.
A group of musicians from Pasadena Tabernacle (California) Corps added to the music Saturday, including solos by Shaun Thomas and Dr. Kate Wohlman and duets by John Docter and Martin Hunt.  Matt Wood sang a song cycle of General John Gowans' poetry set to music by Bosanko, and Gowans' final poem, "Invited Guest" was distributed and read.
Next year, the SOWROA retreat guests will be Commissioners Don and Debi Bell.