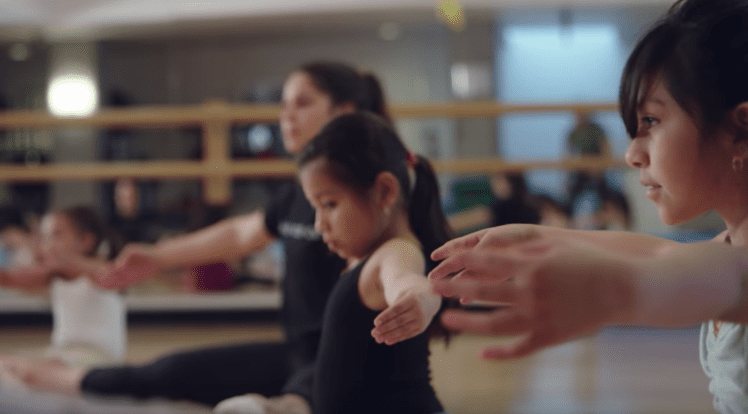 Raising the barre in San Francisco
Partnership yields new dance program at Salvation Army Kroc Center
By Vivian Lopez –
Known for its light, graceful, fluid movements and dynamic pointe work, ballet has become one of the most storied dance traditions, dating back to Renaissance Italy. But despite the acclaim, many have questioned ballet's accessibility, particularly among lower-income communities.
In San Francisco's gritty Tenderloin neighborhood, The Salvation Army and City Ballet School are working to change that. Ken Patsel, City Ballet School Administrative Director and Foundation Chairman, said the goal is to expose children to an "age-old dance form" that younger generations are growing unfamiliar with.
"Ballet is so underrepresented in young children, so it was really a match made in heaven," Patsel said. "We're 100 percent sure [without the program] the kids would not get any exposure to this art form. What we strive for is for ballet not to be an elitist activity."
Nine kids are currently enrolled in the weekly classes, which began earlier this year at the Ray and Joan Kroc Corps Community Center. City Ballet School provides the program instructor at no cost, as well as leotards, ballet shoes and other apparel for the children. The school also holds performances periodically for kids at the Kroc Center, and invites them to their recitals, including their annual performance of "The Nutcracker."
"There are lifelong lessons that can be learned from a ballet class," said Jennifer Reeves, Fitness Center Supervisor at the Kroc Center. "City Ballet School and the Kroc both have the same mission: we both want to bring high-quality programs to underprivileged youth."
Right now, Reeves said the kids—who can fall anywhere between kindergarten and junior high—are learning the basics of classical ballet, such as pointe work, ballet runs and coordinating arm and foot movements. The goal is to build their confidence for future recitals and performances.
"The girls are not used to being worked that hard, but they are responding positively," she said. "They really look forward to putting on their leotards and ballet slippers and being in the class."
Kroc Center Corps Officer Major Raymond Erickson-King said the program is a great opportunity for youth in the Tenderloin community to build character and get out of their comfort zones.
"Many of the kids who come into our facility come from low-income [households]," he said. "Coming here and getting [to experience ballet] for free gives them the opportunity to explore something they've never had the chance to do."
And he's already seeing the impact of the program.
"Every time I see them [while I'm] walking down the hallway now, they are practicing their ballet moves," he said. "Who knows—we could have our next professional ballet dancer coming from an experience like this at the Kroc Center."
City Ballet School is even looking into offering scholarships to promising students.
"When these kids have [programs like ballet], their world opens up," Reeves said. "They realize it's not so out of reach."