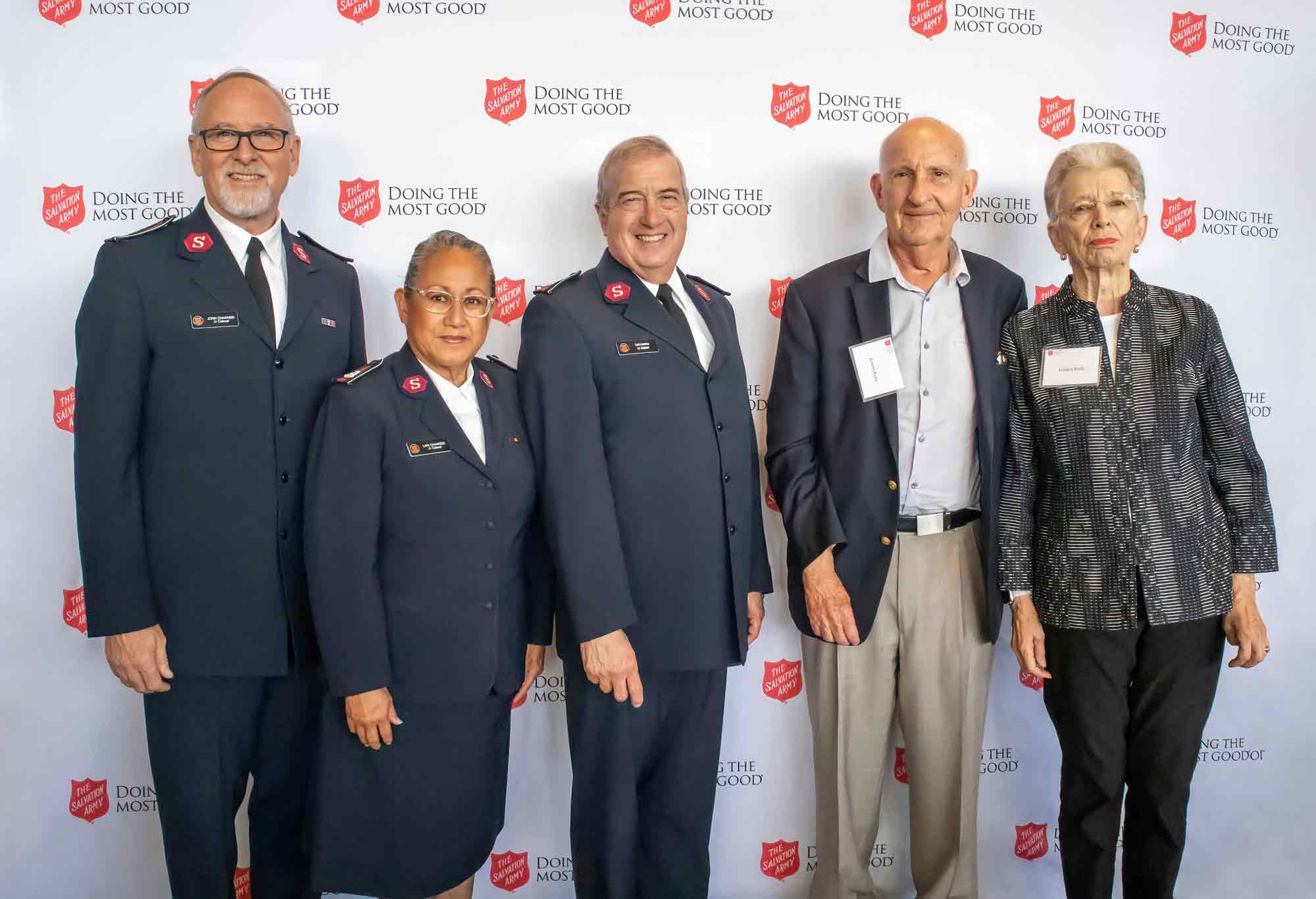 Collaboration is Key: The Rady Center Project Builds Hope for San Diegans
The Salvation Army in San Diego has a vision to expand its efforts to reach more community members in need through the $100 million Rady Center development project at the Centre City facility in downtown San Diego.
The nearly 200,000 square foot state-of-the-art facility will increase critical community services The Salvation Army already provides, such as food assistance and meals for seniors, and will more than triple shelter and support services to help get men and women off the streets and on a path to successful independent living or into permanent supportive housing. It will replace the current Centre City Corps.
The new Rady Center is made possible by a generous donation from philanthropists Ernest and Evelyn Rady and a first-of-its-kind, long-term innovative partnership with local nonprofit Wakeland Housing and Development Corporation.
The news comes at a time when the number of people experiencing homelessness has increased more than 10 percent in San Diego, according to the latest point-in-time count released by the San Diego Regional Task Force on Homelessness in May.
In addition to providing the land, The Salvation Army recently launched a capital fundraising campaign to help construct the shelter units, support services, social enterprise programming and a chapel once the new facility opens. A lead gift of $10 million from Margaret A. Cargill Philanthropies was offered as a challenge to the community. With this gift, The Salvation Army has secured $21 million in gifts and pledges of the $30 million it is committed to raising for the project.
The goal is to ask the community to help raise the remaining $9 million by the end of 2023, said Michele Prosser, Capital Campaign Director for The Salvation Army Southern California Division. "We hope to have the funds needed secured by the end of 2023 to begin demolition and construction in early 2024, and plan to open the Rady Center in 2026," she added.
Once The Salvation Army raises $30 million for this project, a matching pledge of $30 million and an additional $5 million will be given by the Radys—all of which will be designated as a permanent endowment for The Salvation Army's programs addressing homelessness in San Diego.
The new project follows the Radys' generous gift of $50 million the couple pledged to help open the Rady Residence at the Door of Hope campus in San Diego in 2021.
"We have great confidence in this organization, so we are happy to put our resources in their hands and we look forward to a successful conclusion," Ernest Rady said. "I'm really proud of what we're doing."
Providing the full continuum of care
Along with interim and long-term transitional housing, the Rady Center will also offer bridge housing for men and women exiting rehabilitation programs, as well as permanent supportive and affordable housing units for rent.
Lt. Colonel Lee Lescano, Divisional Secretary for The Salvation Army of San Diego County, said the impact of the projects and gifts will help to reduce homelessness in San Diego for generations to come.
"Private giving is really making this a strong project," he said. "But at the same time, collaboration these days is really important, especially to do something this large."
Following an extensive vetting process, Wakeland Housing and Development Corporation was selected to serve as the lead developer, managing the entitlement phase, financing, design and construction, and will provide ongoing asset management at the property once it's open. Wakeland will also seek tax credits and other public and private funding to secure the additional financing for the project.
"Wakeland has experience in building the 'financial stack' that's critical for a project of this size and scope," Prosser said. "This will allow us to provide the full continuum of care, including rapid rehousing, which we really hope to expand."
Lescano said the project will build on important partnerships that already exist with local nonprofits, including Catholic Charities, Jewish Family Services and San Diego Rescue Mission, to name a few, as well as a strong relationship with local government officials.
"Our focus is on the solution," he said. "That means our partnerships, advisory board, donors and volunteers working together will help us make the biggest impact."
---
Do Good:
It's because of people like you that The Salvation Army can serve more than 31 million Americans in need each year. (That's almost one person every second, every day.) Your gift helps The Salvation Army fight for good all year in your community. It's an effort to build well-being for all of us, so together we rise. And that good starts with you. Give to spread hope with a donation of funds, goods or time today.
Learn more about how to support The Salvation Army's Centre City development project.