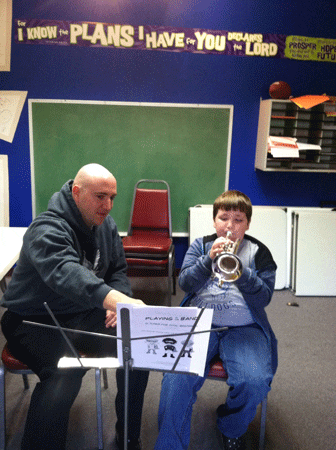 Puyallup students make music
The Salvation Army Puyallup Valley (Wash.) Corps is currently providing brass music lessons to youth in its community. The corps offers weekly classes for low-income students. Students receive the use of an instrument—from the Northwest Division Music Department—and private lessons. These classes give the corps a unique opportunity to connect with parents of children attending the corps and to link them to other corps program.
"Brass music helps you learn responsibility," 9-year-old student Andrew Duncan said.
Samuel Kramarius,  7, one of the youngest students, finds that, "Music is fun."
Instructor Christian Riesebieter grew up in San Diego. He credits musical  involvement at The Salvation Army as one of the best things that could have happened to him.
"Learning music at The Salvation Army San Diego Citadel Corps was a fun way to develop a work ethic, the discipline to practice, patience to sit through lessons and rehearsals, self-confidence, and a sense of respect and commitment to my fellow musicians in band and chorus," he said.
Riesebieter also gives credit to his various mentors and hopes to teach the young musicians  the values he learned so they will develop both musically and personally.
"My goal isn't to turn students into musicians—although it would be awesome—but that Jesus would work through me to help teach kids some of the values and music that I learned, in hopes they will develop and contribute to worship at the corps."
"This is a wonderful opportunity to learn brass and attend Camp Arnold music camp with so many talented people," Iain Nelson, 12, said.
Nine-year-old Jazzy Paul enjoys playing in the Divisional Junior Youth Band.
"It makes me feel good to perform for other people. Music is truly a lifelong gift. No matter how young or old, people can still enjoy playing their instruments."