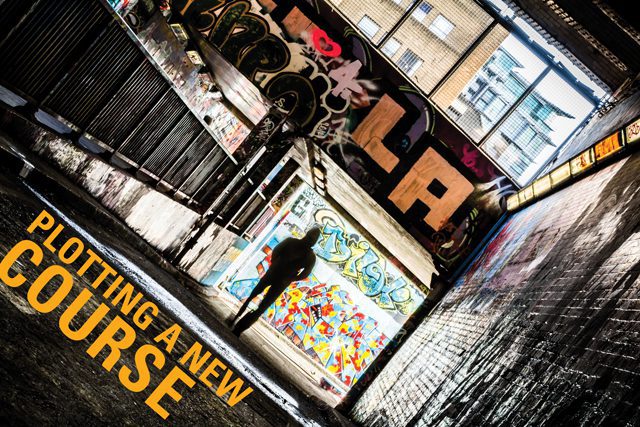 Plotting a new course
Teens Exploring Technology works to curb youth involvement in gangs.
Oscar Menjivar's parents knew they needed to leave El Salvador––an epicenter of Central America's gang crisis––to make a better life for their son. They immigrated to the United States, yet where they ended up wasn't much better than what they left behind.
Not far from where the family touched down in Watts, Calif., the Los Angeles Riots broke out in 1992 after a group of mostly white officers was found innocent of beating Rodney King, an African-American man, following a high-speed police pursuit. According to the State Office of Emergency Services, the riots resulted in 53 deaths, 2,400 injuries and over $800 million in property damage.
Menjivar, just 14 at the time, witnessed much of the violence that ensued.
"You learn how to not be afraid or to not show fear and you learn where you can and can't go; that's something you really know when you grow up in the inner city," Menjivar said, pointing to the projects next door to his old high school. There, a security guard in black and white stood watch as students crossed through the massive metal gates that border the campus and a police car slowly drove by.
"I remember…not being able to stay after school past five because I'd have to make sure before it got dark to go home," he said.
Menjivar said he struggled to learn English as a kid in a new country, but his father, a labor worker, and his mother, a maid, always encouraged him to focus on education. "They wanted me to do something different," he said, "something they couldn't achieve at the time."
He was accepted into Cal Poly Pomona University to study computer programs at about the same time that a good friend of his became heavily involved with a gang. "He got caught in the wrong place at the wrong time and now he's doing life in prison," Menjivar said. Another friend was killed due to gang violence.
"You have a lot of kids who are very poor in the inner city and the biggest influence right now for boys are gangs and that's something we need to change." – Oscar Menjivar
"So me knowing this story of my friends, I'm thinking things really haven't changed," Menjivar said. "You have a lot of kids who are very poor in the inner city and the biggest influence right now for boys are gangs and that's something we need to change."
According to the Los Angeles County Sheriff's Department, both Latino and African Americans make up more than 88 percent of all documented gangs in Los Angeles County. In addition, African-Americans account for 39 percent of the total prison and jail proportion and Hispanics account for nearly 21 percent, as reported by the U.S. Bureau of Justice Statistics. So, Menjivar and a few friends decided to give inner city boys something to aspire toward.
"We decided that we were going to tackle the social issue, which was 'how do we best prepare those kids that most need it in the inner city?' and 'how do we engage them?'" Menjivar said. "So for us it was let's use technology to engage them and give them opportunities—work opportunities, career opportunities and figure out ways that they can get into real jobs and real careers and into the educational system."
Menjivar founded Teens Exploring Technology in 2008. It teaches teens 14-17 years old how to become tech entrepreneurs by learning computer programming, business development and public speaking. The 15-week program lasts five hours each weekday. Participants decide on topics they'd like to learn more about, including iPhone and android development or web development.
At program completion, Menjivar and his staff of volunteers take the boys to Silicon Valley for a tour of the different tech companies—including Facebook, Twitter and Google.
To date, all 200 of his students have gone on to four-year universities, including Syracuse, UCLA and Stanford. Menjivar said his biggest hope is that they will come back to the inner city to be pillars of change for the community.
"It's more than just go and get a job," Menjivar said. "It's about go and learn how to learn and see how you explore something that you love to do and if they continue to explore things they love to do, then they'll do well not just for themselves, but for their family members as well."
One teen in the program created an app that helps high school students prep for the SATs. Another created an app that helps to connect inner city teens for meetings with others in a safe place, away from gang activity.
Menjivar said the program receives 300 applications each year, but can only accept 30 because of funding.
"It doesn't just touch the life of one individual, it touches the life of everybody in that family because now I can go back and help my parents, now I can go back and help my sisters—it's a trickle effect," Menjivar said. "It's something we can continue in how we eliminate poverty or reduce poverty, by giving access to great educational systems to kids."