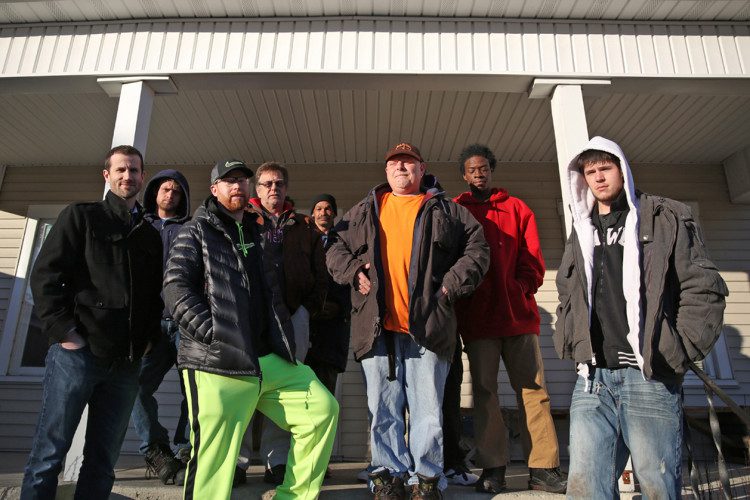 Pizza and a movie help restore a sense of normalcy
The men from the Hartley House shelter meet at the Springfield Corps every Wednesday before heading to the local pizzeria and movie theater.
Feeling a need to connect with the men staying in a shelter next door to the Springfield Corps in Ohio, Captain Justin Caldwell and Youth Pastor Ryan Ray, created the Strikepoint Program.
For the past year, using a grant provided by the Eastern Territory, Caldwell and Ray host a pizza night at a local pizzeria before catching the newest action film at the local movie theater with men from the Hartley House, the only men's shelter in town.  
Caldwell said he will never forget the first night they went out. "One guy named Bill told us that he spent the previous night sleeping under a tree and how 'normal' he felt that evening hanging out with the guys," Caldwell said. "This sense of normality and stability anchored in friendship and love is what most of these men desire."
During dinner, several of the men asked Caldwell and Ray why they were taking them out. "I shared with them that God told us to love you guys and we find it to be a privilege to get to know you," Ray said.
Seven out of the nine men that went out for pizza and a movie that first night chose to attend church the following Sunday. Larkin Fergusen has attended church every Sunday and Bible study every Tuesday since then. He found himself at the Hartley House and then at The Salvation Army one Wednesday night after losing his job and his home when the office building where he worked and lived in was sold.
"I tried to commit suicide. I tried to hang myself," Fergusen said. "I have found a home here at The Salvation Army and my faith has grown."