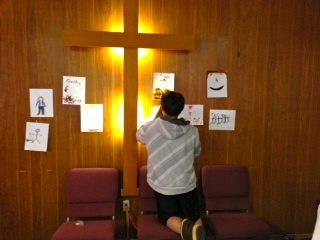 Petersburg Corps paints a tapestry
One Sunday, churchgoers entered The Salvation Army Petersburg (Alaska) Corps to find tables covered with drop cloths and paint supplies lining the room. Lt Christin Fankhauser, corps officer with her husband, Caleb, encouraged everyone to paint during the sermon, creating a self-portrait representing their life in Christ.
"The theme was 'Tapestry,'" Fankhauser said, "and how a tapestry tells a story. Our personal 'tapestries' are individual threads in the tapestry of The Salvation Army Petersburg and in God's infinite tapestry; we are all an important part of God's story."
The completed portraits were placed at the front of the chapel.
"One depicted a stick figure whose leg was bound with a ball and chain, representing the sin in his life," corps member Katey Gilpin said. "Then he painted a cross-filled lightning bolt coming out of the sky to sever the two, showing how powerfully God removed that sin from him forever by sending his son."
Even the initially reluctant participated, accepting the challenge to connect with God in a new way.