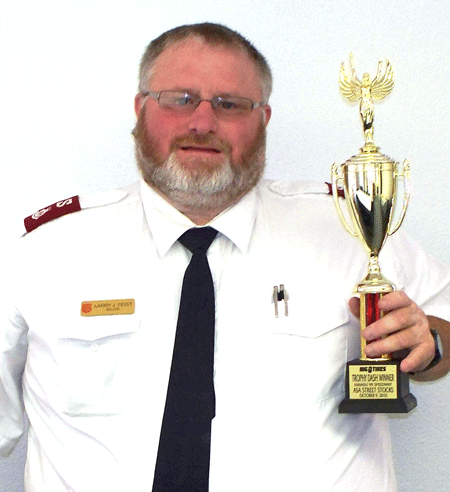 'Pastor Larry' ministers at the track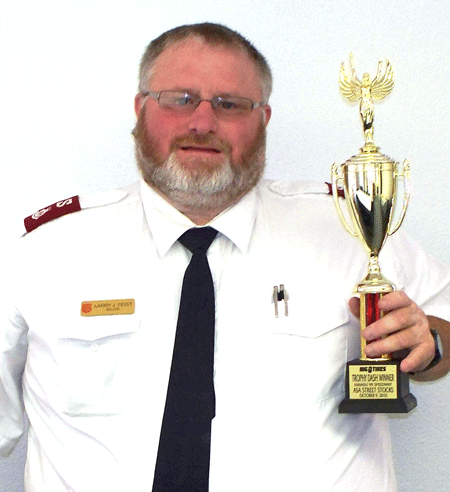 Salvation Army officer has become the unofficial track chaplain.
What do hundreds of race fans and The Salvation Army have in common?
Major Larry J. Feist, or "Pastor Larry," as track officials call him. Over the last two racing seasons at Arizona's Havasu 95 Speedway, Pastor Larry has given the invocation to start the races.
In addition, he has developed some great relationships. Lisa Snell, a talented and fast woman racer, considers Major Feist and his wife Captain Julie Feist her good luck charms, and the folks at Big O Tires are race sponsors and friends of the Feists.
But one of the best relationships is that of Pastor Larry and 78-year-old Street Stock Racer, Ralph Adams. Last year, Adams won every race he entered. Once, after visiting with Adams, Feist jokingly said to his wife, "Someday I am going to ask Ralph for one of his trophies."
Later that night, after the first race, a voice on the loudspeaker announced, "Would Pastor Larry please come to the flag stand?"
Unsure of what the need might be, Feist whispered a prayer as he approached. Once there, after a bit of confusion, Adams took the microphone and said, "I want Larry to have my trophy."
What a great night—full of winners. As Feist said, "This is what it is all about. This is why I am an officer—it is all about relationships."
Feist, or rather Pastor Larry, has essentially become the track chaplain, and it is because he believes that meeting people, building relationships and leading others to the Lord are the most important parts of his ministry.
Major Larry and Captain Julie Feist are the Lake Havasu City corps officers.