OverseasMissionaries
The following officers and Salvationists are currently serving as Salvation Army overseas missionaries.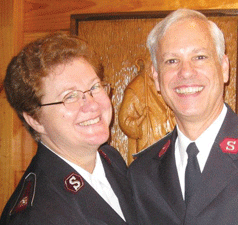 Commissioners Donald and Debora Bell, New Zealand, Fiji and Tonga Territory
"Kia Ora, Bula, and Malo e leilei from New Zealand, Fiji and Tonga. In this next year our team will work on crafting new mission priorities, plan for the General to lead our Congress and Just Action Conference, and continue to advance the kingdom of heaven wherever possible. Bishop Desmond Tutu has been invited as a guest.
"We covet your prayers for our mission goals to make dynamic disciples of Jesus, increase the number of soldiers, take significant steps to eradicate poverty and injustice, and to be a connected, streamlined and mission-focused Army."
The Bells are territorial leaders for the New Zealand, Fiji and Tonga Territory.
Lt. Colonel Douglas Danielson, Mexico Territory
"This year in the Mexico Territory, we continue to celebrate the 75th anniversary of the official start of Salvation Army ministry here. Following June's celebratory congress with General Linda Bond, we will soon commemorate the 75th anniversary of the first corps—Mexico City Corps No. 1.
"The Lord continues to protect and give growth to his Army across the territory. Please pray for the safety of our officers and soldiers as some intervene in situations involving human trafficking. Pray for the Lord's intervention into the construction of the new SFOT/THQ campus in Xochimilco."
Danielson is chief secretary for the Mexico Territory.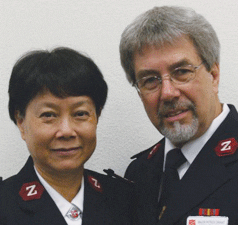 Major Charles Patrick and Captain Kitty Lui Granat, Germany and Lithuania Territory
"In Warsaw, Poland, an evangelistic/revival campaign was conducted in place of the usual one-day World Day of Prayer. The three-day campaign resulted in a fresh stirring of God's Spirit in the hearts of Salvationists. Since the campaign the number of new people attending the Sunday meetings has increased steadily, with a noticeable depth in devotion among those attending. Recent emphasis is on the five aspects of the Christian church: worship, witness (evangelism), welcome (outreach), holiness (discipleship) and helpfulness (service)."
The Granats are regional officers in Poland.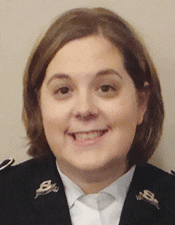 Shelby Hanauer, Finland and Estonia Territory
"My goal since arriving in Estonia has been to blend in with the Estonian/Russian culture here in Tallinn. I also want to stand out spiritually. My prayer is that people stop me on the street not only to ask directions, but also because they notice God's light shining through me. Hopefully, I'll be able to give an answer to both very soon."
Hanauer is the regional program assistant in Tallinn, Estonia.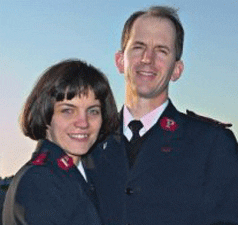 Major Daniel and Captain Anya Henderson, Finland and Estonia Territory
"Anya is part of a new team, no longer carrying the full burden of corps officership. We covet your prayer support, as the team members—including the new officer—often look to her for leadership. Pray for continued integration between the corps and social center ministries.
"I have called for a 12-3-1 discipleship goal. All are asked to befriend 12 people to draw to Jesus over the next 12 months; '3' should be three close friends in the faith: one peer, one younger and one older mentor; and '1' is a godly lifelong friend for empowerment, service, and accountability to help us to grow spiritually.
"Pray for our discipleship program culminating June 27-30, 2013."
Major Daniel Henderson is Estonia regional commander; Captain Anya Henderson is corps leader in Tallinn.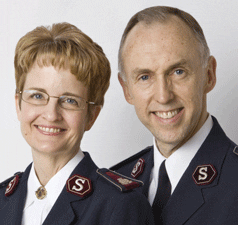 Commissioners Kenneth and Jolene Hodder, International Headquarters
"We are currently serving as the international secretary for personnel/legal and constitutional advisor to the General and the associate international secretary for personnel, respectively, and ministering from International Headquarters in London, England.
"We request prayers for health and safety as we travel the world as messengers of the gospel."
Commissioners Hodder are appointed as territorial leaders to the Kenya West Territory, effective Jan. 1, 2013.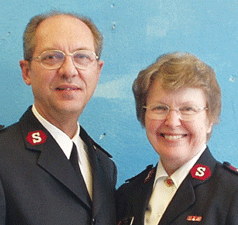 Majors James and Sallyann Hood
The Hoods returned home after serving in Mexico for nine years and will retire Nov. 1. 
Majors S. Edward (Ted) and Deborah Horwood, Angola Command
"As the general secretary and the command secretary for Women's Ministries of the Angola Command, our responsibilities generally involve the administration and coordination of resources and personnel.
"The Angola Command has been independent from the Democratic Republic of Congo for five years. Being a young command, there are structures and systems that need to be strengthened or developed and opportunities that need to be explored. Our contribution to the work is to come alongside to help further establish the Army's national agenda by deepening local community presence."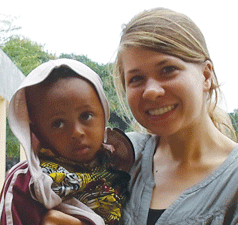 Jessica Horwood, Democratic Republic of Congo
"This year I've been serving in the Democratic Republic of Congo with the Lay Missions Program. It's been a challenging yet rewarding time learning French and working with the project officer to develop, facilitate and oversee The Salvation Army's international development projects. We have about 10 projects throughout the country.
"Please pray for the peace of the country as a whole. The Salvation Army has run a few emergency projects for the displaced refugees and those returning to their villages, but the future is still very fragile."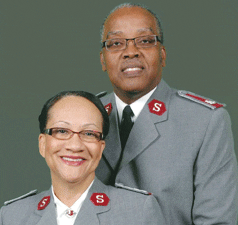 Lt. Colonels Victor and Rose-Marie Leslie, Caribbean Territory
"This summer, thanks to the USA Western Territory, we held our Caribbean Music Institute under the direction of Bandmaster Ralph and Isobel Pearce and Captains Matthew and Dianne Madsen. We are still in the middle of handling issues like Haiti earthquake redevelopment, responding to human trafficking situations and working on financial stability.
"In November, we'll be celebrating 125 years of ministry with a Congress led by General Linda Bond."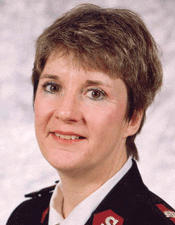 Major Linda Manhardt, The Philippines Territory
Manhardt has served in the Philippines since 2009 as a training principal. She will come home in November for furlough, before returning to the Philippines for a second term.
Majors Elicio and Darlan Marquez, Latin America North Territory
The Marquezes are currently serving as divisional commanders in Panama City, Panama.
James and Martha Miller, The Philippines Territory
The Millers are serving in the Philippines for one year as a Bible teacher and librarian. Both are helping in outreach and Sunday programs.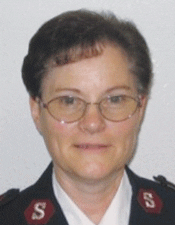 Major Beryl Pierce, Zambia Territory
"I've recently moved from the south of Zambia (Chikankata Mission) to Ndola in the north to oversee the Mitanda Home for the Aged, the second largest Salvation Army facility in the Zambia Territory.
"Mitanda currently houses only 20 people due to financial constraints. Its main source is from donors in other countries who give through projects or private funds."
Pierce is director of the Mitanda Home for the Aged in the Zambia Territory.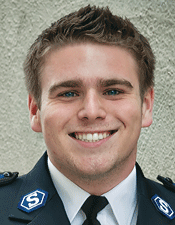 Andrew Smith, Germany and Lithuania Territory
Smith will depart Oct. 9 to Germany, where he will be working as a corps officer assistant at Freiburg Corps.
Major Susan Wun, Hong Kong and Macau Command
Wun is divisional commander for the Hong Kong and Macau Command.