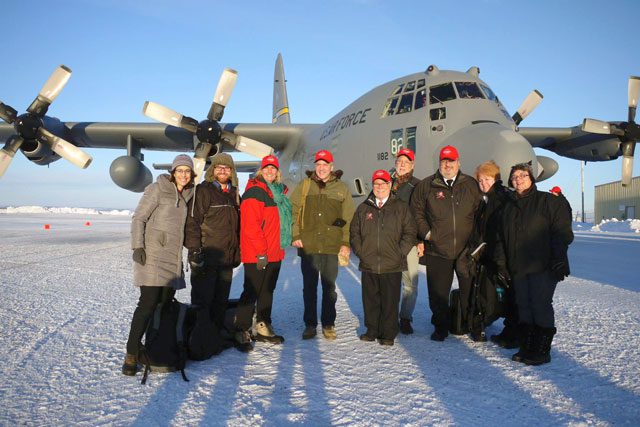 Operation Santa spreads cheer
The Salvation Army and the Alaska Air National Guard travel with Santa to remote Alaska villages.
By Karen Gleason –
The Salvation Army in Alaska has partnered with the Alaska Air National Guard since the late 1960s to deliver Christmas cheer to rural communities, and it did so again in 2015 for two Native villages.
Operation Santa first stopped in Savoonga, a village of roughly 700 people on the northern coast of St. Lawrence Island in the Bering Sea, before a second trip to St. Mary's, a village of about 550 people on the north bank of the Andreafski River. St. Mary's was home to the first Operation Santa mission 59 years ago, beginning the tradition of delivering treats and necessities to isolated villages. Over the years the outreach grew, and now volunteers deliver toys, books, school supplies, fresh fruit and ice cream sundaes.
"What an amazing way to share Christmas," said Jenni Ragland, service extension and emergency disaster services director for The Salvation Army in Alaska. "The kids were so excited and friendly. The elders and teachers were so thankful. I love that I get to be part of this great project."
To get to these remote locations, the Alaska Air National Guard provides the airplane—a C-130 Hercules aircraft from the 176th Wing—and gifts for youth ages 12-18. The Salvation Army provides toys for newborns to 11-year-olds.
Volunteers from both groups collect and wrap hundreds of gifts, before setting off with Santa and Mrs. Claus, and National Guard mission support personnel "elves."  Night club entertainer Mr. Whitekeys—an Alaska celebrity—made the trip to Savoonga, and a Salvation Army band traveled to St. Mary's.
"There were times in the past that I've wondered if a new toy was really going to make much of a difference in a child's life," said Shannon Titzel, advisory board chairperson for The Salvation Army in Anchorage. "Being in St. Mary's and seeing one little girl in particular changed all that. When Mrs. Claus handed her a gift, her face just lit up and she smiled a huge, toothless smile and said 'Merry Christmas!'
"I have no idea what circumstances that girl is living in, but seeing the absolute joy in her face for those moments showed me just how much this program means," Titzel said. "I hope that's a moment that this little girl can carry with her for the rest of her life—knowing that we all cared."