One Army, one mission, one message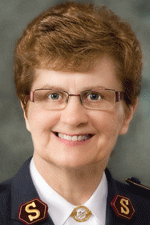 By Linda Bond, General
Recently I visited the International College for Officers for their spiritual day. The meeting was thoughtfully arranged by the principal, Lt. Colonel Richard Munn.
One element in particular was especially stirring. Here was a recitation of the 11 Salvation Army doctrines. What was unique was that each one was recited by a delegate in his or her own language. Ten languages were represented. This occasion of unity was an experience of the Spirit. Previously, at the celebration of the 120th anniversary of the International Staff Band, bands representing nations that were once at war marched down The Mall to Buckingham Palace behind The Salvation Army flag. We are one Army!
But there have been instances in my experience when fracture, dissension and strife told a different story. How often the "us and them" attitude reared its ugly head with fixed positions on worship—contemporary or traditional—or in the separation of corps and social work, or between the field and headquarters, or between young and old, male and female. It may only be a surface matter or typical of human beings living in community, but it has a negative and divisive effect.
While unity is a gift, it also requires effort
While we must allow for diverse opinions we must be very concerned over division. The apostle Paul recognized the tendency in the early Church and advised: Make every effort to keep the unity of the spirit through the bond of peace (Eph. 4:3). While unity is a gift, it also requires effort.
So how do we get on the same page, so to speak? One of the privileges of being the General is to travel throughout the international Army. What must my message be to Salvationists, whether I am in Malawi, Myanmar, Mexico or Moldova? With the diversity of cultures, is it possible to speak into the Army with unifying principles that are rooted in Scripture, faithful to our heritage and a map for the future? Is it possible to speak these unifying principles to all generations and all expressions of service and worship?
Yes, I believe it is not only possible but necessary. I am compelled by God to share what he has placed on my heart. We are one Army, with one mission and one message.
If there is an understanding and united commitment to who we are, there will be a sanctified energy and optimism in the way we serve and how we see our future. It is possible for us to move forward together.
We have one mission. Our mission is not three separate strands, assigned to a certain section of the Army. It is one mission. No part of the Army can divorce itself from serving suffering humanity. Nor can any part ignore the imperative to bring people to Jesus and make disciples.
To be hurting, broken, lonely, dispossessed and lost can apply to sinners and saints as well as the suffering. And therefore it is our mandate, given by God, to move into the world, doing all that we can to lovingly connect with people, dressing the wounds of body, mind and soul.
We have one message. It is imperative for The Salvation Army in the 21st century to speak unashamedly of Jesus, God in flesh:
Jesus – master, teacher, physician, friend
Jesus – our atoning sacrifice and our only means of salvation
Jesus – the living Lord and coming King
Our message must be unequivocal
Yes, we need to effect change for people and we can do so in many practical ways, but only God in Jesus by his Spirit can make them new creatures in Christ, setting them free, giving them hope and life to the full.
"I believe in transformation, God can change the hearts of men." That was the conviction of General John Gowans (Ret.), expressed in Song 324 (SASB). A God-raised, Spirit-filled Army needs to rise up and say, "We believe in transformation." Our message must be unequivocal. There may be pre-conversion steps and post-conversion growth, but regeneration and sanctification are words of transformation.
This 21st century needs an Army of purpose and passion. We must take hold of the dynamic ministry given to us by our Lord and move forward together as one Army, with one mission and one message.
This article originally appeared in The Officer (Sept.-Oct. 2011) and is reprinted here with permission.