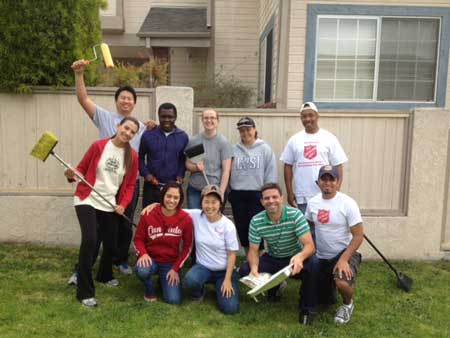 Off the Crestmont campus and into the community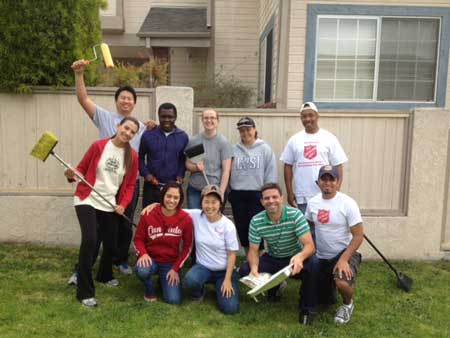 Cadets engage the community through acts of service and conversation.
First-year cadets from the College for Officer Training at Crestmont went into the community—in groups of 15-20—to "bloom where they are planted" by volunteering in various activities and projects.
One group volunteered in San Marino, Calif., at a Special Olympics track and field meet.
"What a delightful experience to be a part of the Special Olympics," Cadet Francine Huck said. "This is our God's kind of event if I ever saw one!"
Another group planted flowers around Rancho Palos Verdes City Hall. While there, they met "Chris" and talked to him about his beliefs, faith and life experiences.
"I am trusting that we planted more than just plants today, but that we also planted a seed of hope in this young man," Cadet Andrea Reedy said.
Other members of the Disciples of the Cross Session painted fences and served at a food bank. Through these simple acts of service, the community saw the love of God.
"I'm so thankful that we had the opportunity to demonstrate the love of Christ through community work," Cadet Caleb Montes said.
The Community Service Project Day allowed cadets to proclaim God's message to those who may never walk into a church or hear the gospel, and to share The Salvation Army with people who might never have contact with the Army any other way.
By Naomi Kuhlman, Cadet

Major Ivan Wild challenged the cadets in his evangelism class to go into the community to reach out to hurting people. He asked us to step out of our comfort zone and evangelize people in their element—just talk with them with no tricks or things to pass out—just engage with them in conversation. He asked us to take $5 to use toward others.
After a morning worship service and blessing over the money, 120 of us went to 25 different locations around Los Angeles to meet people on their "turf."
My group was assigned to the MetroLink Blue Line with people commuting from Long Beach to downtown L.A. I met Mr. Jenkins who began telling me his story right away. He was an ex-convict and a drug addict who knew the streets well. He and his wife lived on skid row for five years. He found Christ while living this life and now wanted to give back to the community. He hopes to start a prison ministry in Lancaster, Calif., a city that needs someone who can relate to people hurting in prison and out on the street.
Currently, Jenkins and his wife speak at battered women's shelters and to youth on the street. Before we parted, we friended each other on Facebook and I gave him a link to our online testimonies. Later I sent him a post saying that I am praying for him and his family, and their ministry.
He responded, "I just want to thank the Lord for allowing us to meet one another. That was a real blessing, my brother. I know that the Metro got a little crazy, but we will see each other again doing the Lord's will. We are keeping you and your family in prayer. Let the rest of your brothers and sisters know we are praying for them as well. Stay strong in the Lord and keep smiling."
I was on the Metro to evangelize and ended up being evangelized. I thank Major Wild for challenging us to step beyond our doors and into the world.
The cadets made a video testimony and uploaded it on a Tumblr website, hoping that the people we talked to would check out the site (https://cadetstories.tumblr.com).
By Jeff Williams, Cadet