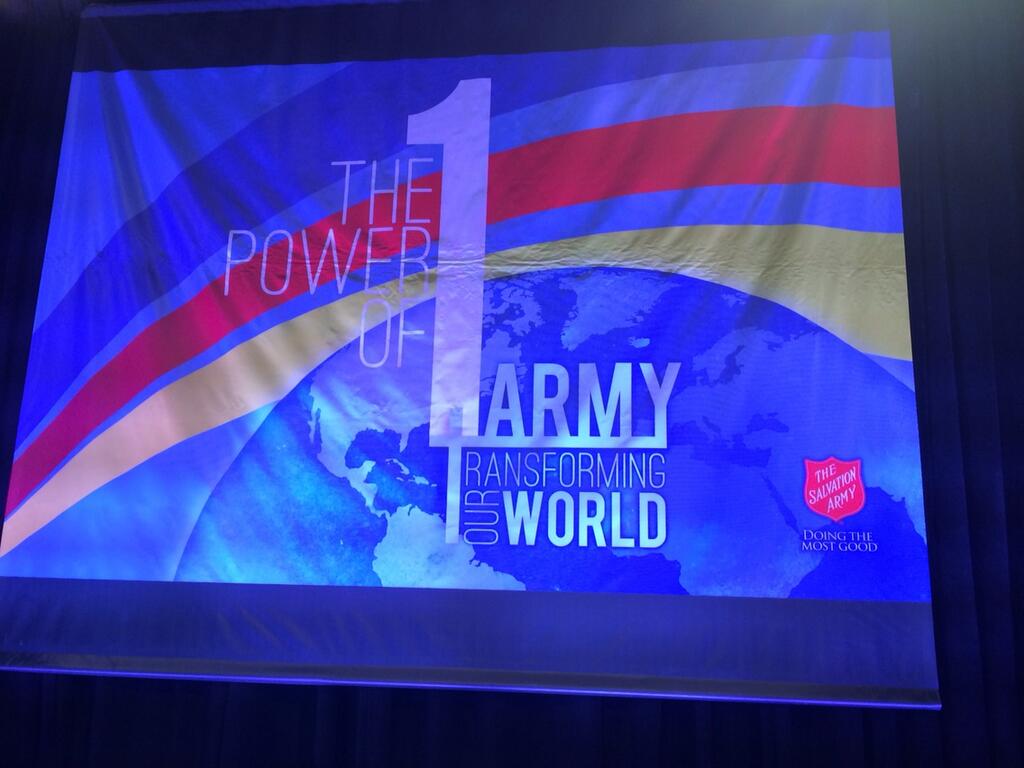 Social services and disaster management 2014 awards announced
National Social Services and Disaster Management Conference recognizes excellence across the U.S.
The 2014 National Social Services and Disaster Management Conference is meeting this week in Orlando, focusing on "The Power of One Army, Transforming Our World." It takes place every other year to celebrate, promote, shape and advance The Salvation Army's expression of practical Christian response to human need.
The conference also recognizes outstanding services across the country to people in their everyday needs and in times of disaster. The following details 2014 recipients of awards in program excellence and achievement, excellence in social work, and those with their "sleeves rolled up."
PROGRAM EXCELLENCE AND ACHIEVEMENT
In recognition of outstanding service delivery through The Salvation Army
Durham Booth Manor
Western Division, Central Territory
The Durham Booth Manor, which opened in 1997, offers 47 comfortable and affordable apartments for low-income seniors. Situated on The Salvation Army Lied Renaissance Center Campus in Omaha's historic Bemis Park, the facility faces a public park and is minutes from bus lines, shopping and dining facilities. Consistently, the program has received exemplary reviews for business practices, fiscal management, and HUD compliance. It scored 99 percent through the Territorial Program Evaluation and staff received a score of 4.9 out of 5 on a resident satisfaction survey.
Zelma George Family Shelter
Northeast Ohio Division, Eastern Territory
The Zelma George Family Shelter provides emergency shelter for homeless women with children but accepts two parent families, married couples, and men with children. For more than 30 years, the 110-person facility has provided a safe and supportive living environment near downtown Cleveland. Licensed social workers and a housing specialist provide a variety of supportive services to residents, including case management, counseling, life skills, and employment training. Tutoring, youth clubs, and field trips are offered to children. The program has a strong linkage to the New Hope Corps, which is located in the Harbor Light Complex, providing additional support and congregational life activities. More than 65 percent of families successfully complete the program.
Austin Shelter for Women and Children
Austin Area Command, Southern Territory
The Austin Shelter for Women and Children is a comprehensive emergency shelter program for homeless women and children, funded by the City of Austin and operated by The Salvation Army. The shelter, which opened in 2002, has a 60-bed capacity, with six beds reserved for single women. The facility includes a licensed child care center for children 18 months to 4 years, a full service kitchen, computer lab, and community garden. Via a trauma-informed service model and linkage to community resources, a highly qualified staff provides "wrap-around" services to assist client transition from crisis to stability during the average 90-day stay. A high priority is placed on children's services, which include therapy and after-school tutoring. Clients receive follow-up case management services for six to 18 months after securing housing.
Sally's House
Northwest Division, Western Territory
Sally's House, which opened in 2002, is an emergency shelter care facility for children 2 to 12 who are removed from their homes due to abuse, neglect, abandonment or criminal activity. The 5,000-square-foot facility has five bedrooms with four beds each, a dining room, playroom and lounge. Sally's House provides children a caring, nurturing and safe environment during the average 58-day stay while the Department of Children and Family Services identify a relative or foster care placement. Since opening, the program has served more than 2,800 vulnerable children. A preschool program for children under the age of 5 is provided on site, while school age children are transported to their school of origin. During their stay, children participate in a variety of development opportunities, such as afterschool tutoring, field trips, children's worship and other corps related activities.
EXCELLENCE IN SOCIAL WORK
In recognition of outstanding work in social services with The Salvation Army
Doris Rhames, Central Territory
As program coordinator for community support – mental health at the Lied Renaissance Center in Omaha, Doris Rhames addresses the emotional, psychological, physical, social and spiritual needs of her clients. A member of the team since 1990, Rhames is known for a calming and attentive approach.
Diana Lopez, Eastern Territory
An employee of the Greater New York Division for more than 13 years, Diana Lopez has worked in a variety of positions in social services and disaster management departments. She directs the long term recovery efforts for 9/11, Hurricane Katrina, and Hurricane Sandy, and co-chairs the Disaster Case Management Committee for New York City. In addition, Lopez serves on the National Coordinated Assistance Network Advisory Committee.
Kathy Ridings, Southern Territory
Kathy Ridings has served as the social services director for the Austin Area Command since 1995. Since 2003, Ridings has secured more than $17 million in public and private funding and was instrumental in implementing two HUD demonstration projects, Rapid Rehousing and Veterans Homelessness Prevention. She received the Distinguished Service Award from the City of Austin in 2012.
Linda Rich, Western Territory
Now executive director of the Family Treatment Services in Honolulu, Linda Rich began her employment with The Salvation Army as clinical director in 1992. In her first five years on staff, Rich guided the program from non-accredited status to national accreditation, which it still maintains. She is known for an ability to build community partnerships that enhance the program and provide better outcomes for families served.
SLEEVES ROLLED UP
In recognition of outstanding work in Emergency Disaster Services (EDS) with The Salvation Army
Rush Yelverton, Central Territory
Retired U.S. Army Colonel Rush Yelverton, a West Point graduate, has served as a Salvation Army disaster services volunteer for more than a decade. In 2008 he was installed as a member of the Indianapolis Advisory Board and currently serves as chairman of the EDS Committee as well as a member of the Executive Committee.
Renee Rawcliffe, Eastern Territory
Renee Rawcliffe serves as the field education coordinator for the Greater New York Emergency Services Department. Her position was created in 2011 with the intent to recruit, assign, and develop internships in partnership with various regional colleges and universities and Rawcliffe now maintains relationships with 13 universities. She has placed 68 students in emergency services, social services and corps programs with a program that provides 5,000 hours per semester of skilled labor. To date, 15 interns have been hired in various full-time positions following their graduations.
Midwest Food Bank, Southern Territory
The Midwest Food Bank is a faith-based organization with a mission to alleviate hunger and poverty by gathering and distributing food donations to nonprofits and disaster sites. It has assisted The Salvation Army in numerous disaster incidents, from Hurricane Katrina in 2005 to the Tuscaloosa tornadoes in 2011. Most recently, it stood side by side with the Army during the Oklahoma tornadoes.
Sherry Manson, Western Territory
Since 2009, Sherry Manson has served as the EDS and service extension director for the Intermountain Division providing oversight to more than 100 service extension units in four states. She is responsible to support more than 300 disaster volunteers and supervise the maintenance of 14 canteens. In 2013, her team responded to five disasters, two major forest fires and a near catastrophic flood logging nearly 482,000 disaster worker hours.