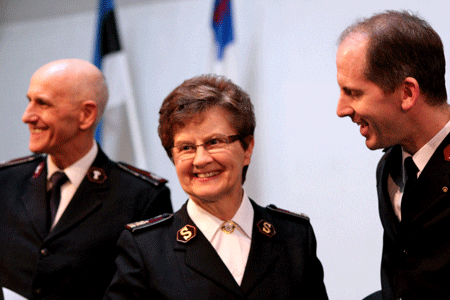 Nordic Leaders and Estonian Salvationists Challenged During Visit by the General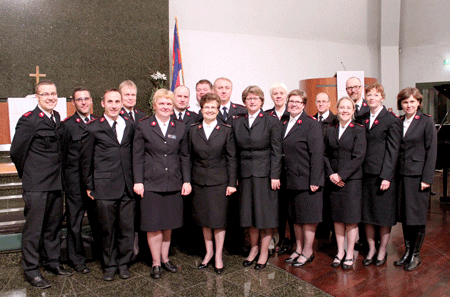 The visit of General Linda Bond to Tallinn, the capital of Estonia, was marked by times of influence and inspiration. A day spent with delegates to the Nordic Leadership Development Institute was followed by a public meeting attended by Salvationists from across the country.
The Nordic Leadership Development Institute gave a week's training to Salvation Army officers from Norway, Sweden, Denmark, Estonia, Latvia and Romania. The General spoke to delegates about leadership and Salvation Army standpoints on many important topics. Responding to questions from the officers, the General provided information regarding doctrinal issues, the importance of prayer in work and in personal life, discipline in spiritual life and carrying out the duties of an officer.
In the evening a public meeting was held in Tallinn United Methodist Church. Salvationists from all of the Estonia Region's corps (churches) came to listen to the General and share in fellowship.
The congregation included around 20 men from Hope House, the Salvation Army rehabilitation centre in Tallinn. God has performed great miracles in the lives of these men. They have experienced God's love as they have been helped and cared for by the Army. As a result of this transformation, many of the men want to serve God and their neighbours as soldiers of The Salvation Army.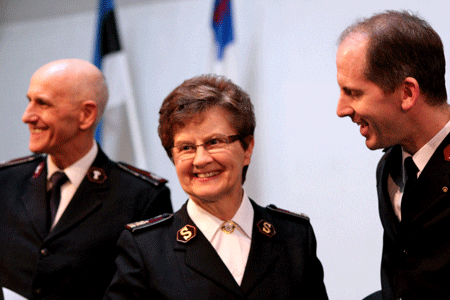 The meeting was led by Commissioners Dick and Vibeke Krommenhoek (territorial leaders, Finland and Estonia Territory) and Chief Secretary Lieut-Colonel Arja Laukkanen.
Olav Pärnamets, Senior Pastor of the Tallinn United Methodist Church, gave the opening prayer and prayed especially for the General and the work of The Salvation Army. He mentioned that 78 years ago an Estonian Salvation Army soldier had led his mother to faith and to church fellowship. Today Pastor Pärnamets still praises God for this event.
In response to her welcome by Commissioner Dick Krommenhoek the General spoke about her pleasure in visiting Estonia. She talked about Estonia's reputation as a country of people who gain strength when they gather together to sing.
The theme of song was continued in skilful singing by the host church's Credo-Allika Choir. After Envoy Inge Ojala-Pihlaja testified a beautiful duet was sung by Anneli and Evelyn Aavik before the General gave her Bible message.
She challenged Salvationists – and all Christians – to follow Jesus and do his will in their lives.
At the end of her message the General invited people to the mercy seat. Tens of soldiers and friends knelt at the altar or stood in front of it, seeking the face of God and showing a willingness to serve him.
After the meeting the General took the opportunity to greet many of the people present.
Report by Lieut-Colonel Aino Muikku