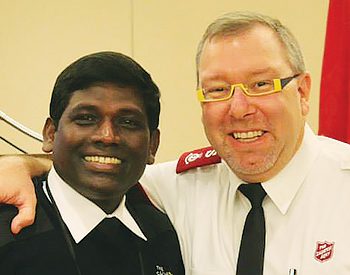 NHQ hosts writers conference
Writers and editors from 14 countries exchange ideas.
The Salvation Army USA National Headquarters hosted a writers conference in St. Louis, Mo., from Oct. 8-13 for those looking to advance The Salvation Army's ministry in publication.
The conference, themed "A Word Fitly Spoken," included five days of presentations by special guests and hands-on workshops.
"I was deeply concerned that we weren't training those in our organization to become writers," said Major Allen Satterlee, War Cry editor-in-chief, who proposed the idea for the conference. "I figured this would be a great opportunity."
Presenters and attendees traveled from 14 countries, including Denmark, Canada, India and Brazil. Each day began with a morning devotion led by the national publications staff and selected delegates. Workshop topics ranged from "Devotional Writing" to "Controversy and Grace."
Linda Johnson, freelance consultant for the USA Eastern Territory, led a workshop on feature writing.
"It was great to give exercises that allow you to actually put it into practice," she said, after giving participants an opportunity to interview one another.
Though many of the workshops keyed on writing articles for Salvation Army newspapers and magazines, one of the courses, aptly titled "So You Want to Write a Book," gave participants an opportunity to see the steps involved in publishing a full-length book. Panelist Warren Maye, Good News editor, spoke to the importance of knowing your audience.
"There has to be enough of a market for whatever you're writing about," he said.
Satterlee said he would like to hold another writers conference "three or four years from now."
"I would love to see more books published," Satterlee said. "There is certainly a great need for writers in The Salvation Army."