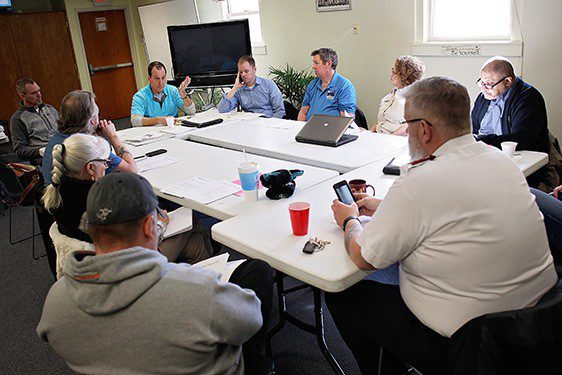 New prison re-entry support program shows impact in first year
Minnesota held the highest three-year recidivism rate of any U.S. state, according to a 2011 Pew Charitable Trusts report.
The Salvation Army in Minneapolis, Minn., launched a prison re-entry support program just over a year ago, and so far, it's yielding positive results.
Of the 12 men who've come through the program, not one has returned to prison, and while that's a small sample size, the Volunteer Aftercare Support Team (VAST) believes there's plenty of room to be optimistic about future success.
According to Salvation Army Chaplain John Hulteen, who leads the program, VAST's main purpose is to help the men fill two critical needs: emotional support and employment.
"Through VAST we're trying to offer something more," Hulteen said. "Hope fizzles without ongoing support."
Weekly meetings can help the men grow spiritually, learn from others coming out of prison, incorporate advice from staff and volunteers, and be accepted for who they are. Each meeting is divided into two parts. The first half opens up discussions about the men's everyday struggles; the second half uses video training.
"We take a Christ-centered, introspective look at what drives risky behavior," Hulteen said.
The employment component of VAST is equally important. Dr. Lindsay Phillips, assistant professor of psychology at Albright College, studies re-entry and works with ex-offenders as they return to society. While ex-offenders face many barriers upon release, she said employment is among the most commonly cited.
"Many jobs do background checks, so it is incredibly difficult, especially for people with felonies to find employment," Phillips said. "Obviously, there's a stigma toward people who are formerly incarcerated, and sometimes there's a tendency to not want to give someone a second chance. It's unfortunate because there are a lot of people who return to society and are ready to make changes and who want to be good citizens, but because of their record they're not given a chance."
Incarceration also creates a gap in employment history on an ex-offender's resume. So, even if a company forgoes a background check, the applicant still has to explain periods of unemployment.
VAST helps men secure employment by providing one-on-one counseling from volunteer professionals who provide expert advice in the areas of resume writing, job searching, interview coaching, mental preparation, using the latest technology and more.
Thanks to that support, Hulteen said, "One of our guys is now working full-time for a fruit packaging company in St. Paul, and another guy is working a good construction job in Anoka."
Corey, a felon who spent eight years in prison, is thankful for the emotional support he receives through VAST's Christian-based programming. He's been coming to the program's weekly meetings ever since he was released from prison in May.
"I've tried making it on my own, and I failed miserably," he said. "The emotional support is the most important part of the whole program. The biggest thing about coming out of prison is receiving support and finding people who are not going to judge you."
Corey now has a job in customer service, earning enough to support himself.
Intensive post-prison outreach programs like VAST serve an immense need. Minnesota prisons are bursting at the seams, and many of the state's nearly 10,000 inmates are repeat offenders who slide back into crime when they are unable to obtain their most basic needs: employment and housing. Minnesota also held the highest three-year recidivism rate of any U.S. state, according to a 2011 Pew Charitable Trusts report.
"To survive, they're almost forced to revert to the things that got them incarcerated in the first place," said Chaplain Charles Berry, a Salvation Army prison minister and VAST staff member.
Hulteen's long-term goal for VAST is to create a cycle in which men enrolled in the program go on to visit prisons and serve as mentors to inmates. A VAST women's group is beginning to take shape as well. In addition to serving women coming out of prison, it will also support women on the outside who have an incarcerated son or daughter, spouse or other loved one.             
"This is just beginning to happen," Hulteen said, noting that Corey and a fellow participant named Rick have demonstrated enough improvement that they are close to achieving mentor status. "This would make the program come full circle—we meet the men and women inside prison, we help them find success on the outside, then they use what they've learned to support others coming out of prison."
VAST enrollees initially connect with Hulteen and other Salvation Army prison ministry staff while still incarcerated. In prison, Salvation Army staff engage men and women in Bible studies and transformative programs such as Celebrate Recovery and The 7 Habits of Highly Effective People, among other courses.
"A few weeks before they're released, we meet with them to determine what their needs will be when they hit the street—food, clothing, housing, and other things," Hulteen said. "Once they're out, they meet with a Salvation Army case manager who gives them what they need."
After that, VAST kicks in.       
"We've seen it happen time and time again that when folks come out and don't get the support they need, they spin out and land back inside," Hulteen said. "That's where this VAST team wants to be positioned. With God's help, these men and women can change."