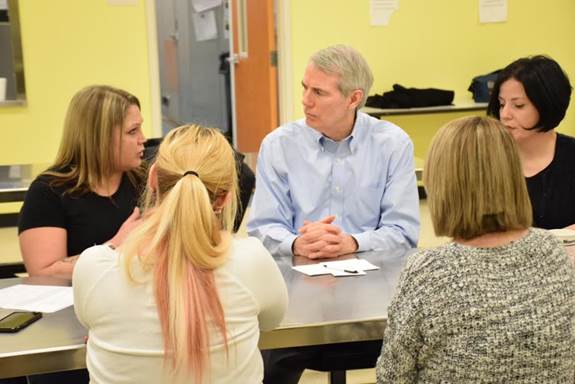 New bill comes online to combat drug addiction
Legislation would offer comprehensive new approach to improve treatment options
By Mindy Farabee –
Last month, new measures designed to address how Americans combat drug addiction took a major step forward on Capitol Hill, moving out of the Senate Judiciary Committee to be taken up for consideration on the floor of the Senate.
The ambitious bill, known as the Comprehensive Addiction and Recovery Act (CARA), is being heralded as growing evidence of a shift in national consciousness—by earmarking $78 million for treatment, prevention, overdose reversal, criminal justice reform, and other such provisions, the bill reflects a departure from the "war on drugs" mentality that's largely dictated the public discourse since Richard Nixon uttered the phrase at press conference in 1971.
Indeed, CARA comes on the heels of numerous actions designed to redirect addicts toward recovery and away from prison in recent years—from Californians voting to downgrade nonviolent felonies like drug possessions to a misdemeanor in 2014 to President Obama's February 2016 call for $1.1 billion in new treatment funding. Moreover, in a rare sighting of bipartisanship, the bill is co-sponsored by Republican Rob Portman of Ohio and Democrat Sheldon Whitehouse from Rhode Island, a sign that many feel bodes well for its passage.
The act is still far from law, however. Receiving committee approval means that CARA still must move through both houses of congress in order to reach the president's desk. That process could take months and provides ample opportunities for derailment along the way. But significant momentum has been building behind the bill since its introduction last February, especially after Sen. Portman held a series of hearings in late January 2016, designed to spotlight addiction issues in general, but mushrooming rates of opioid addiction in particular.
It's this staggering rise in opioid abuse that appears to be driving much of the rethinking on the subject. Over the past 15-20 years, as the medical community began to treat patients with chronic pain more aggressively, rates of opioid addiction—dependence on a class of morphine-derived drugs that encompasses prescription painkillers such as OxyContin along with street drugs like heroin—began to jump precipitously, more than doubling the number of fatal overdoses for younger, white Americans, particularly in rural areas, a New York Times study found. Deaths from prescription drugs "have surpassed traumatic death," said Sean Nordt, a toxicologist, emergency room physician and associate professor at the University of Southern California. "That's the first time that's happened."
In the U.S., opioid overdoses claimed some 28,000 lives in 2014, according to a 2016 report from the Pew Research Center. Today, about 130 Americans a day die from overdoses, with 70 of those stemming from opioid use alone. Often these statistics hail from demographics—high school athletes, workers injured on the job—who began their addiction with a doctor's prescription. Once doctors cut them off or the pills become too expensive, users often turn to cheaper alternatives such as heroin, which also brings with it an increased risk of infectious diseases.
The impact is being felt across the country. "Opiate use in all our centers is on the rise," said Avery Chamlis, The Salvation Army Western Territory's director of rehabilitation for the Adult Rehabilitation Centers Command. "Even our centers that have traditionally had other drugs and alcohol as their primary addictions, have found that heroin use is on the rise."
 "This is a public health crisis," said Becky Vaughn, vice president of addictions at the National Council for Behavioral Health, an umbrella organization representing 2,750 community mental health and addiction treatment centers around the country. "We use the example of Ebola [here in the U.S.]. Everyone was panicking, and we had three cases. People are dying of these overdoses ahead of every other cause of death, and yet we're not getting the same result."
Several of CARA's provisions are crafted to target opioid addiction, a problem—perhaps not uncoincidentally—most prevalent within the country's white population. But Vaughn notes that its passage would benefit more than opioid users, and its emphasis on continuum of care is key.
"The reason it's got good bipartisan support is the word 'comprehensive," Vaughn said. "We've had lots of hits and misses dealing with the problem of addiction."
That's also what makes the bill unique among recent legislative proposals, she says. CARA's numerous provisions include sections on prevention and education; law enforcement and treatment; treatment and recovery support; collateral consequences (such as barriers to community re-entry after incarceration); women and veterans; and state demonstration grants, which could open up new funding streams for community treatment centers.
One element in particular has garnered praise from several quarters. While CARA would strengthen monitoring systems that help doctors gauge whether patients are collecting multiple prescriptions, it would also make new medications more widely available, increasing funding and availability of both naltrexone, which can reverse overdose effects, as well as three, FDA-approved medications—Vivitrol, buprenorphine and methadone—that have proven effective in significantly boosting recovery rates. While not a substitute for other forms of therapy, a medication-assisted approach works to combat cravings and is capable of doubling success rates in the first year, according to the aforementioned Pew report.
"You can get to the root issues pushing substance abuse much much faster," Vaughn said. "A person can deal with the process better. I've had people say to me, 'I wasn't focused on my brain screaming for more drugs.'"
As for when all this help might arrive, cautious optimism abounds. Advocates are lobbying hard for CARA's passage under the current congressional session, so as to move its authorized funds into the federal budget for 2017. Money from the White House's independent February proposal, meanwhile, could become available even more quickly.
But just the fact that any of this is on the table is a game-changer, Vaughn said.
"When I started at this 30 years ago, it was hard to get a legislator to talk to me," she said. "Now we have hero legislators who are being very proactive. Truly, this is the first presidential race in which we've had anything like this attention [on the issue]."
In fact, two former candidates from the crowded Republican field—Carly Fiorina and Jeb Bush—have both spoken openly about addiction issues among their own relatives. On the other side of the aisle, Democratic hopeful Bernie Sanders called for a "radical" redirection in American drug policy during a late 2015 debate. Out on the campaign trail, voters haven't been shy about pressing for answers, as in the lead-up to February's intensely covered primary in New Hampshire, a state struggling with one of the highest per capita rates of addiction in the country.
"I'm seeing changes I never thought I'd see in my lifetime," Vaughn said.
_______________________
Overdoses from heroin, prescription drugs, and opioid pain relievers have become the leading cause of injury death in the United States, surpassing the number of deaths by motor vehicles and by firearms every year since 2008.
SOURCE: DEA