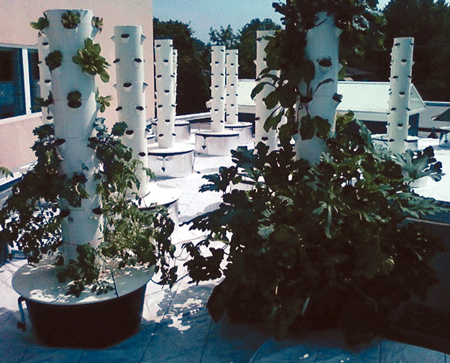 New Aeroponic Tower Garden feeds seniors
A corps' 30 towers equal up to 10 acres of conventional farmland.
Senior citizens at The Salvation Army Corps Community Center in Blue Island, Ill., are getting a healthy twist to their lunches thanks to a new aeroponic tower garden and the culinary delights of Chef Chris Fron.
The garden, located on the roof of the Blue Island Corps, is an implementation of innovative advances in technology that bring new growing concepts and techniques to agriculture. Blue Island's 30 towers equal up to 10 acres of conventional farmland.
"There's definitely a difference you can taste in the produce we use from the aeroponic tower garden; it tastes much better," Fron said. "It's fresh produce from farm to table, so there's no loss of nutrients through warehouse storage and transportation."
Fron and a handful of senior volunteers tend the garden, planting and harvesting the fresh produce. A Chicago area chef for more than 16 years, Fron was classically trained at the Cooking and Hospitality Institute of Chicago, but his love of cooking began early.
"I've been cooking since I was 5," Fron said. "Camping in the backyard making bacon and eggs is what got me hooked."
Fron said that the Senior Lunch Program at the Blue Island Corps is what made him want to work with The Salvation Army, which he's now done for two years. The program, created to help seniors socialize and eat balanced and nutritional meals, follows strict nutritional guidelines that meet senior dietary needs. Offered free of charge, more than 250 seniors participate in the program each week.
Between 2001-2009, the number of people age 50 and older struggling with hunger rose by nearly 80 percent.  Today, almost 9 million older Americans are at risk of hunger.
"When I came on board, I took the program and really gave it an upscale feel, much like a restaurant,"  Fron said. "I love that I can do classic comfort food from scratch in an intimate setting."
From The Salvation Army Metropolitan Division