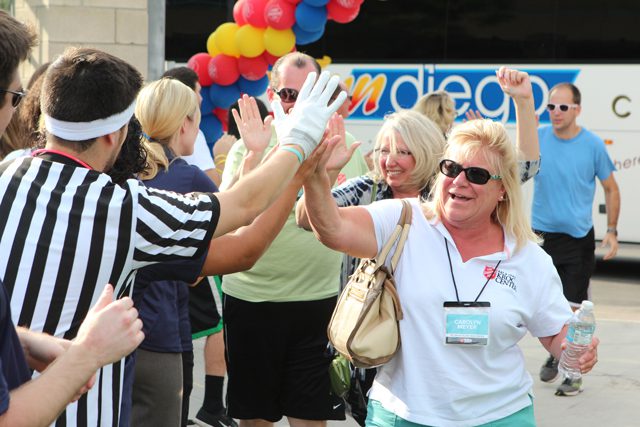 National Kroc Centers Conference goes back to the start
San Diego host city for community and youth center staff
By Glynis Eckert –
Salvation Army Ray and Joan Kroc Corps Community Center and Red Shield Youth Center employees from across the country arrived in San Diego Sept. 26-29 for the National Kroc Center Conference, "The Power of Love," to explore the past, present and future of Kroc Centers.
"We were so thrilled to have leaders from the Kroc Centers and so many of our Red Shields and other large community centers attend as we aim to further our imperative to offer more resources to those crucial Salvation Army mission stations," said Steve Bireley, USA Western Territory Kroc and Community Centers Coordinator.
After a lively opening gala featuring a Huey Lewis cover band, the conference kicked into high gear with specialized workshops across four days.
"Our mission remains the same, but our challenge is to reach individuals with the gospel through the unique means that are available to us at our Kroc Centers," said Joe Muth, San Diego Kroc Center Assistant Director of Operations and Mission Integration. "For example, our slogan of 'Soup, Soap and Salvation' still rings true but in a Kroc Center setting, it may manifest itself in the form of 'Swim Lessons, Summer Camp and Salvation' instead."
Attendees descended on the first-ever Kroc Center, located in San Diego, on the final evening, greeted by cheers and high fives by the center's staff. Games of Bubble Soccer and Cosmic Dodgeball challenged the reflexes of some, tours offered a full view of the groundbreaking campus, and others opted to enjoy the ice arena.  
For Commissioner Carol Seiler, USA Central Territory coordinator for strategic mission planning and the chairperson of the National Kroc Task Force, putting on ice skates brought back memories of her childhood in Canada. "After 40 years away from Canada, I found pure joy in the skating," she said.
"The conference helped us realize that there are now second and third 'generation' staff and officers at Kroc Centers around the country," Seiler said. "Apart from the workshop offerings and learning opportunities, an observable benefit was in the form of robust 'how do you…?' conversations that happened around the tables, in between sessions and in the evenings."  
Attendees were pleasantly surprised in the final event in the Joan B. Kroc Theatre by the attendance of Joan Kroc's grandchildren and great-grandchildren. "Every day that passes, I feel more and more proud of my grandmother and the vision she had to give everyone a chance to reach their full potential," her granddaughter told attendees. "Without you, my grandmother's gift and vision would not have come into fruition."