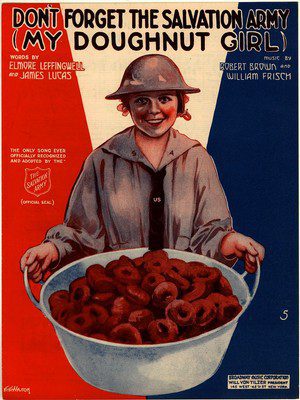 National Doughnut Day Fact Sheet
National Doughnut Day will be celebrated Friday, June 3rd this year.
The Salvation Army celebrated the first National Doughnut Day in 1938 in the city of Chicago as a way to honor Salvation Army "doughnut lassies" from World War I.
· The Salvation Army started National Doughnut Day as a way to raise funds and bring awareness to the Army's social service programs during the Great Depression.
Approximately 250 Salvation Army volunteers provided assistance to American soldiers in France starting in 1917 during WWI.
· Known as "doughnut lassies," female Salvation Army volunteers provided writing supplies, stamps, clothes-mending and home-cooked food for soldiers.
· Ensign Margaret Sheldon and Adjutant Helen Purviance came up with the idea of cooking doughnuts in helmets to provide a quick and easy treat for American soldiers.
· Doughnuts became an instant hit that was brought back to America by returning "doughboys."
The Salvation Army continues to provide meals, including doughnuts, and numerous other services to clients who visit Salvation Army programs daily.
· Last year, nearly 30 million Americans received assistance from the Army's 3,600 officers, 60,000 employees and 3.4 million volunteers.
· The Army served more than 64 million meals to people in need – that's more than enough to provide a meal to every man, woman and child living in California and Texas.
· The Salvation Army has more than 7,800 centers of operation in nearly every ZIP code in the country.
· The Salvation Army responds to hundreds of natural and man-made disasters every year – providing coffee and doughnuts, as well as warm meals and hydration to nearly 1 million survivors and emergency responders.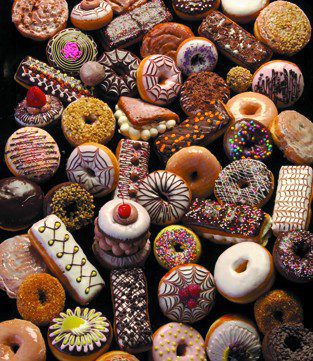 The Salvation Army is celebrating National Doughnut Day with a variety of events and partnerships, including:
· Nationally: The Salvation Army partnered with baked goods manufacturer Entenmann's, which reached their goal of donating $10,000 to The Salvation Army — $1 for every person who LIKED their Facebook page (www.facebook.com/Entenmanns) through June 3. In addition, supporters of The Salvation Army and Entenmann's can text the word "DONUT" to 80888 to make a $10 donation to the Army.
· Augusta, ME: The Salvation Army will offer free doughnuts and coffee between 7a.m. and 10a.m. at the Tim Hortons on Western Avenue.
· Chicago, IL: Community members can help The Salvation Army "Erase Hunger" on June 3rd and 4th. Fundraisers will be on the streets handing out commemorative Doughnut Day tags to donors to help support feeding programs for children, seniors, the homeless and families in need. Local celebrities will be participating in events and providing entertainment at the James R. Thompson Center on June 3rd from 11a.m. – 1p.m.
· Cincinnati, OH: The Salvation Army will partner with the Greater Cincinnati Retail Bakers Association and Kroger grocery stores to host games and other activities, in addition to providing free doughnuts and drinks on June 3.
· Cambridge, OH: Area grocery stores Riesbeck's Food Markets and Value Fresh have partnered with The Salvation Army to sell doughnuts in specially designed boxes with The Salvation Army logo. A portion of the money made on those sales will support local Salvation Army programs and services.
· Dayton, OH: Community members who visit The Salvation Army Ray & Joan Kroc Corps Community Center will receive free doughnuts and coffee, as well as information on The Salvation Army and various center activities.
· Hampton, VA: The Salvation Army and Krispy Kreme are partnering to provide glazed, chocolate, cake and crème-filled doughnuts to Salvation Army clients, including members of senior programs.
· Little Rock, AR: The Salvation Army is partnering with Krispy Kreme in West Little Rock to pass out free doughnuts to raise awareness and donations for local Salvation Army food programs.
· Los Angeles, CA: BakeMark will make a $10,000 donation to support The Salvation Army's Haven Shelter in West Los Angeles. The Salvation Army will also provide free doughnuts and coffee to veterans at the Haven served by volunteers in "Lassie" uniforms.
· Nashville, TN: Throughout Nashville, to honor the heritage of this sweet day, Krispy Kreme's five Nashville Area shops will partner with The Salvation Army Nashville Area Command to help raise money for the less fortunate by hosting the Army's iconic red kettles at registers.
· Newark, OH: The Salvation Army will be serving coffee and doughnuts from a disaster services vehicle and mobile kitchenette (canteen) at the Ohio State University Newark Campus on the morning on June 3rd.
· Phoenix, AZ: Community members who donate gently used items to a Salvation Army Family Store on June 3rd will receive a free Dunkin's Donut and a coupon for a free dozen Dunkin' Donuts.
· Richmond, VA: The Salvation Army of Central, VA will pass out free doughnuts to community supporters and volunteers, as well as local media.
· Trenton, NJ: The Salvation Adult Rehabilitation Center will hand out special thank you cards to commemorate the doughnut's history and to let donors know how their support helps The Salvation Army save lives.
· Tulsa, OK: During the morning of Wednesday, June 1st, The Salvation Army will partner with three Merritt's Bakery locations to raise donations through red kettles and offer a variety of unique doughnuts with a free beverage.
· Waterville, ME: At The Salvation Army's facility at 225 Main Street, Waterville, Salvation Army "Lassies" in period costumes will serve free coffee and doughnuts compliments of Country Kitchen at 9:30 a.m.
· Wilkes-Barre, PA: Doughnuts will be distributed at The Salvation Army Adult Rehabilitation Center's work therapy warehouse to sweeten the beneficiaries' breaks that day. Shoppers of Salvation Army Family Thrift Store will also be surprised with complimentary coffee and doughnuts.