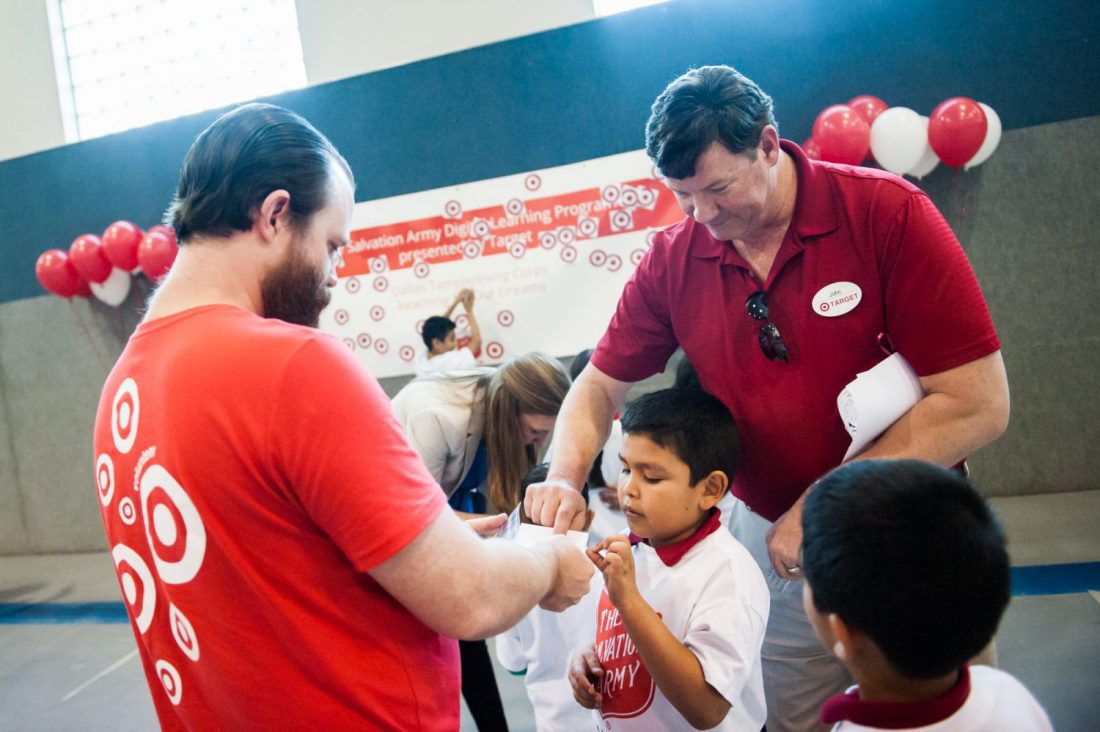 National digital learning program underway
Initiative brings critical skills education to kids in 200 Salvation Army after-school programs across the U.S.
By Ashley Carter –
The Salvation Army announced today the launch of The Salvation Army Digital Learning Program presented by Target for 200 Salvation Army after-school programs across the nation. The digital education initiative is aimed at empowering youth and communities with meaningful and critical life skills in areas such as financial literacy, digital preparedness, STEM readiness, health and wellness, and diversity and inclusion.
Developed in partnership with leading education technology company, EverFi, the innovative online program offers engaging, dynamic and interactive content. Through a grant provided by Target, The Salvation Army added more than 1,700 new computers and accessibility upgrades to enable more youth to access the program.
"Target's partnership with The Salvation Army's Digital Learning Program further strengthens our commitment to supporting local communities," said Laysha Ward, executive vice president and chief corporate social responsibility officer for Target. "By working together, Target, The Salvation Army and EverFi can make a positive impact to change how youth will interact and engage in learning in a new way."
The program includes eight different courses for kids in grades K-12. All learning courses contain guided activities, interactive gaming simulations, and content with real-world applications.
"Each year, we work with more than 250,000 kids in a variety of programs across the country, helping them overcome obstacles posed by poverty so they can unlock their potential," said Colonel Ron Busroe, National Community Relations and Development secretary for The Salvation Army. "Feedback from pilot testing has been overwhelmingly positive, and the program is already resonating in the communities that we serve."
To celebrate the launch of program, The Salvation Army in conjunction with EverFi and Target, hosted a marquee national launch event in Irving, Texas, March 2.  
"Digital education is a powerful tool that can address skill deficiencies that put huge pressures on families and can keep young people from realizing their full potential," said EverFi CEO Tom Davidson. "We are grateful to Target and The Salvation Army for their dedication to closing the critical skills gap in youth and are honored to power this national program."
A pilot program during the 2014-2015 academic year included five locations in the Western Territory: the Seattle White Center, Kauluwela Mission Corps, Kona Corps, Anchorage Corps and the Gresham Corps.
West's locations
Alaska
Anchorage Corps
Cascade
Gresham Corps
Del Oro
Antioch Corps
Hayward Corps
Lodi Corps
Sacramento Citadel Ray Robinson Community Center
Santa Rosa Corps
Suisun City Kroc Center
Golden State
Los Banos Corps
Merced Corps
Modesto Red Shield
Monterey Corps 'Sonshine' CDC
San Francisco Kroc Center
Hawaii
Kona Corps
Kroc Center
RMI After-school
Northwest
Coeur d'Alene Kroc Center
Federal Way
Missoula Corps
Puyallup Valley Corps
Renton Corps
Seattle White Center Corps
Vancouver Corps
Sierra del Mar
El Cajon Corps
Oceanside Corps
Riverside Corps Kids' Cafe
Southern California
Alegria
Anaheim Red Shield
Burbank Corps
Glendale Corps
L.A. Central Corps
Oxnard / Port Hueneme Corps
Santa Barbara Corps
Torrance Corps
Tustin Ranch Corps
Westwood Transitional Village
Southwest
Casa Grande Corps
Chandler Corps Youth Center
Estrella Mountain Corps
Flagstaff Corps
Las Vegas Citadel
Mesa Citadel After-School
Prescott Corps