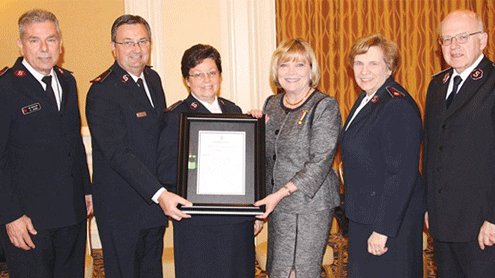 National Advisory Board meets in Phoenix
Board meets tri-annually in different cities.
"The Salvation Army feeds empty stomachs and hungry souls," said Charlotte Jones Anderson, chairman of The Salvation Army's National Advisory Board (NAB), to an audience of corporate leaders from throughout the Phoenix area at a CEO breakfast launch of the Jan. 10-11 NAB gathering. Jones is executive vice president of the Dallas Cowboys, vice president of brand management and president of its charity foundation.
The NAB is comprised of 40 business and community leaders from throughout the U.S. who lend their assistance, in an advisory capacity, to the Army's national leadership, meeting three times a year. This meeting was hosted by the Western Territory's Southwest Division, with territorial leaders Commissioners James and Carolyn Knaggs participating.
"Better than our advisory boards are our advisory board members," James Knaggs said. "These beautiful people freely give their time, energy and expertise to our movement. We are much the better because of them. Thank you, Lord, for these faithful people who support your work in such strategic ways."
At the breakfast, NAB Emeritus Member Marilyn Quayle spoke about the needs served by the Army, particularly during times of disaster. National Commander Commissioner William Roberts also addressed the group. Other guests included former Vice-President Dan Quayle, Arizona's Secretary of State Ken Bennett and the mayor and vice-mayor of two surrounding communities.
The NAB members convened in a plenary session where they heard a report about the work of The Salvation Army's World Service Office (SAWSO). The afternoon included committee meetings on such topics as communications, business and advisory board development.
In a locally-produced showcase, with dinner and a program at the Phoenix South Mountain Ray and Joan Kroc Corps Community Center, Major Denise Hawk presented Scripture, two recipients of Army services gave testimonies, and Army leadership recognized Corona del Sol Red Kettle Club, the first high school club of its kind in America. Now in its second year, with 60 members, the student club raised more than $3,000 at the kettle in 2012, conducted a water drive for the homeless last fall, spent multiple holiday evenings assisting their assigned corps with everything from family registrations to warehouse preparation and distribution. Currently, they are planning an adult rehabilitation collection day and a second major fundraiser.
"These young men and women represent our supporters of tomorrow," Knaggs said. "They bring us all great pride as they go about their work of doing the most good in their community."
Southwest Divisional Commander Lt. Colonel Joe Posillico added, "We couldn't be more proud of the students who support The Salvation Army. And the students at Corona del Sol really are role models for other clubs that are forming throughout the country."
A surprise presentation concluded the program, honoring NAB and Phoenix Advisory Board Member Marlene Klotz-Collins as she was admitted to The Salvation Army's Order of Distinguished Auxiliary Service in recognition of her dedicated work with the Army for 30 years at the local level and national level (see story p. 1).
During a full board meeting the following day, Majors George and Donna Hood, Western Territory officers who worked closely with members of the NAB during their last 13 years of service with the Army, ceremoniously retired from appointments as the national community relations and development (CRD) secretary and associate national CRD secretary, respectively.
"Both George and Donna have given conscientious, heartfelt service to our organization," said Roberts, while performing an official flag ceremony with both the Hoods' sons participating. "We wish them God's richest blessings in their retirement."
The next meeting of the NAB will be held in Boston in April. View photos of the NAB's current members at mysaboard.org/nab.