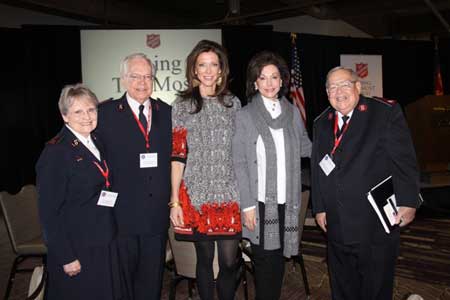 National Advisory Board meets in Atlanta
By Karen Gleason –
The Salvation Army's National Advisory Board (NAB) met in Atlanta Jan. 23-24, the first NAB meeting for The Salvation Army's new national leaders Commissioners David and Barbara Jeffrey. Approximately 250 attended a community leadership breakfast which preceded the opening plenary session.
"It's always inspiring to meet on a national level, but this meeting was particularly special," member Marlene Klotz-Collins said, referencing the four retired National Commanders in attendance: Commissioner John Busby, Commissioners Kenneth and Marjorie Hodder, Commissioners James and Ruth Osborne and Commissioners Robert and Alice Watson. Additionally, two former NAB chairs, Frank Skinner and Harry Lamon, attended. Ruth Altshuler, one of only a few NAB Life Members, traveled from Dallas to participate. "There may never be another NAB quite like it," Klotz-Collins concluded.
The plenary session featured the Economic Halo Effect of The Salvation Army at its Ray and Joan Kroc Corps Community Centers, a project taking place over the next eight to nine months conducted nationwide through Partners for Sacred Places. Ultimately, the Economic Halo Effect will produce a series of reports that estimate the Kroc Centers' impact on the economy of their respective communities, based on surveys conducted with key leadership in those communities. The project has yielded a quantifiable impact on the Philadelphia Kroc Center's community, and "Partners" is working with other Kroc Centers to achieve similar results.
Members visited Evangeline Booth College, the Southern Territory's training college. NAB Member Bob Byers expressed special thanks to Emeritus Member Charlie Towers for encouraging national board members long ago to support the Army's training colleges, including establishing endowments to ensure that individuals eager to serve would have financial sponsorship.
New NAB members were introduced: J.C. Huizenga, a local business leader/entrepreneur from Grand Rapids, Mich.; Rodney Bullard, vice-president  of community affairs for Chick-fil-A and executive director of the Chick-fil-A Foundation; and Joe Robson, chairman and first vice-president of the National Association of Home Builders of the U.S. The group welcomed back Mary Theroux, senior vice-president of The Independent Institute, and Don Strang, president of the Strang Corporation.
Southern Territorial leaders Commissioners Don and Debi Bell hosted the meeting, along with Georgia Divisional Commander Major James Arrowood and Major Todd Hawks, general secretary and Metro Atlanta area commander.
The next NAB meeting will be March 27-28 in Orange County, Calif.