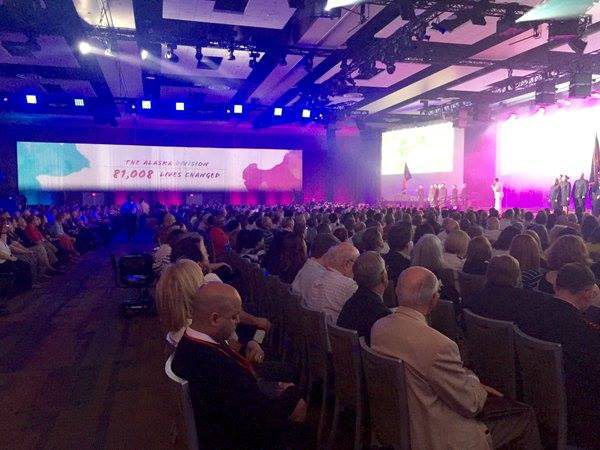 NAOC 2016 begins
For delegates from the Western Territory, The Salvation Army 2016 National Advisory Organizations Conference (NAOC), "Expect Change," began its first full day with a territorial breakfast—bringing together officers, staff and advisory board members from across the West—at the Phoenix Convention Center.
Territorial Commander Commissioner James Knaggs addressed a promise he made at the previous NAOC in 2011.
"I pledged then to address the fragmentation of ministry across our territory; that we would look toward an approach to bring the streams together, leverage them, and unite them in such a way as to build upon each other," he said. "The result is California United, which has brought the four divisions in California together to talk about services in the same way so that we can stand tall in our communities and be at the table when it comes to public policy."
He noted a legislative tracking system and relationships formed to further the work of the Army, which spends $1 million per day on service in California.  
"People don't come to us because we're so good looking, or because our uniforms are so nice, but because God has sent them to us," Knaggs said. "We have a responsibility to disciple them further than a bag of groceries or a place to stay."
A responsibility, he said, that led to the launch of the Harvest Initiative, which has spanned the adult rehabilitation center (ARC) command, social services, camps and will now address people seeking God.
A morning general session featured the presentation of Evangeline Booth Awards to Charlotte Jones Anderson, Dallas Cowboys executive vice president and chief brand officer, and NFL legend Emmitt Smith, who first learned to play organized football at The Salvation Army Boys & Girls Club in Pensacola, Fla.
"Change sometimes scares people to death, but I've come to learn change presents a unique opportunity to change your perspective," Smith said.
He told his own story of leaving college for the NFL draft and playing for the Dallas Cowboys.  
"There's decisions, choices and consequences in everything that we do," Smith said. "If you allow children to see from a different lens, then they're inspired to change their worlds."
A best practices general session then featured innovative and successful methods from units of all size across the nation, before presenting the Evangeline Booth Award to Stan Richards, founder of The Richards Group, who served on an ARC advisory board before a divisional board, and now the National Advisory Board.
"I never thought what I'd see walking into an ARC would change me," he said. "What amazed me was the sharp contrast of those coming in at rock bottom and those already in the program. The eyes have a spark of life rekindled, and dignity restored through acts of kindness.
"It is amazing to witness, and remarkable to be a part of," Richards said. "Thank you for giving us the great privilege to be stewards of your brand. I will treasure every moment I get to spend playing some small part in this mission to do the most good."