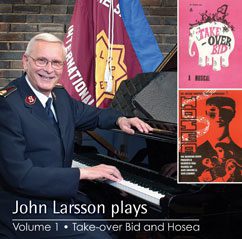 Return of the Gowans and Larsson musicals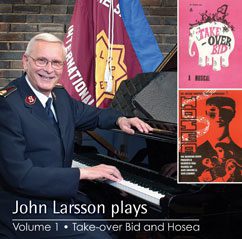 To make the songs of the Gowans and Larsson musicals available to this generation, General John Larsson (Ret.) is recording a series of CDs—under the generic title of John Larsson Plays—in which he plays piano arrangements of the main songs from the 10 musicals he co-authored with General John Gowans (Ret.) during the period 1967-1990.
Most of these digital piano recordings, enhanced on some tracks by other instrumental voices, will feature songs from two musicals and all will come accompanied by a booklet containing the song lyrics by John Gowans.
The first CD in the series—John Larsson Plays Take-over Bid and Hosea—has been launched by SP&S (UK) and includes 28 songs from the first two musicals written by the duo, among them favorites like "Someone Cares," "Hundreds And Thousands," "His Love Remains the Same" and "How Much More."
Listening to these songs while following the words in the 32-page booklet will be, for many, a trip down memory lane. But the composer hopes it will also bring inspiration to those who never knew the era of the musicals for, as he writes: "Most of these songs are timeless and have something to say to each new generation."
The CD is available from the territorial trade/supplies department, www.shop.salvationarmy.org. Visit www.johnlarsson.com for further information and sample tracks.