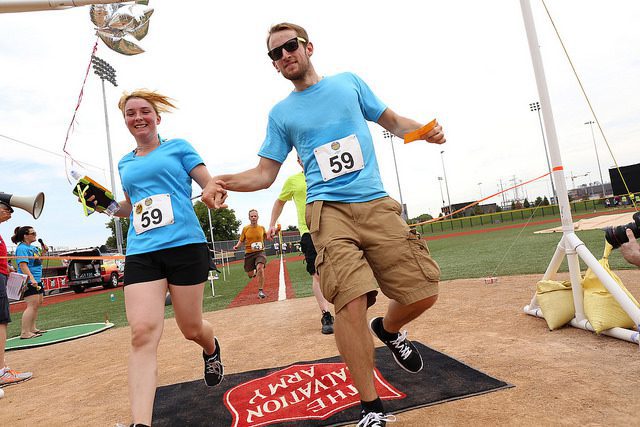 2014 MOST Amazing Race nets over $100K for Army
By Craig Dirkes – 
Tom Puzak took home his third straight MOST Amazing Race title in the Twin Cities Saturday, second with current partner Eric Kelly.
Puzak and Kelly have also won three other Salvation Army MOST Amazing Races in Pittsburgh, Pennsylvania; Ft. Lauderdale, Florida; and Arlington, Texas, but Saturday's event qualifies as their favorite. (View race photos.)
"It was the most well-attended and most competitive race thus far––the top five to seven teams all had a very legitimate shot [at winning]," said Puzak of team "Sophisticuffs," who will split CenterPoint Energy's $5,000 grand prize with Kelly.
The 2014 MOST Amazing Race main event featured 30 teams of two that raced around Minneapolis and St. Paul to complete 11 mental and physical challenges. The race raised more than $105,000 for Salvation Army food and shelter programs. Racers raised more than $70,000, plus $20,000 from CenterPoint Energy, $3,000 from Polaris, $1,500 from FairLife, and $10,000 from an anonymous donor.
The top fundraising team, Adventure Guys, raised $4,830, winning two queen-size beds and accessories, courtesy of Mattress Firm. Team Frontier '97 was close behind with $4,255. More than 20 teams raised at least $1,000.
 In nine years, the MOST Amazing Race has raised nearly $550,000 for Salvation Army food and shelter programs.
"We thank all of our sponsors and volunteers for making this year's race even more amazing," said Lt. Col. Robert Thomson, Salvation Army Northern Division commander. "Their efforts have allowed us to provide food and shelter to even more Twin Cities residents in need."
Challenges included:
Dressing up as CenterPoint Energy mascot Buddy Blue Flame and decorating the company's other mascot, Wanda Water Heater (pictured, right).

Finding answers to a quiz inside Minnesota History Center and playing a Russian roulette-like game in which losers got a pie in the face (watch video).

Racing around in hamster balls at University of Minnesota (watch video).

Bruegger's Bagels: Picking up and delivering bagels; eating and identifying flavors of cream cheese.

Catching fish and paddle-boarding at Lake Nokomis.

Building robot arms and blowing balloons through hoops at Leonardo's Basement. Racers had to wear the robot arms in public while en route to the next challenge (watch video).

Bouncing tennis balls at targets and running an obstacle course at Inner City Tennis (watch video).

Making Salvation Army-themed art at a Salvation Army Store
[gss ids="8404,8408,8419,8422,8406,8410,8417,8418,8405,8409,8407,8416,8401,8400,8399,8398,8402″]