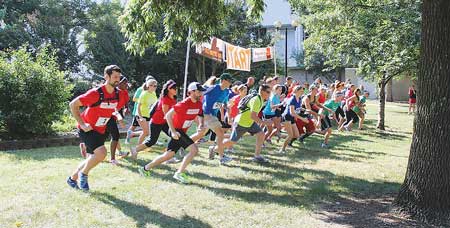 MOST Amazing Race
Scavenger hunt benefits at-risk youth.
The Salvation Army of Wake County, N.C., held its second annual MOST Amazing Race competition on Aug. 24. This year's race, fashioned after the CBS hit show "The Amazing Race," raised over $20,000 for Wake County Community Center's after-school programs, which provide educational, recreational and spiritual resources to at-risk youth.
Each team of two had to raise a minimum of $250 in order to enter the contest––the top three fundraising teams earning key advantages, including a two-minute head start or a skip-a-challenge option. During the race, the 23 teams faced a series of challenges at 12 different locations throughout downtown Raleigh, including The Natural Science Museum. Contestants sang, ate, climbed and sprinted their way to the finish.
"We were thrilled to introduce new locations and challenges even more similar to that of the TV show," said Haven Sink, director of public relations for The Salvation Army in Wake County.
Ives Maready entered the race with her roommate as Team Blue By You.
"The race was really challenging, but amazing!" Maready said. "We had a lot of fun, and it was awesome knowing we were doing something for a good cause!"
Rob Daviero and Colin Pelletier of Team Custom Mail Solutions placed first, nabbing the $2,500 top prize. The Schmohawks notched a second-place finish and $1,000 and The Mellow Fungis rounded out third for $500.
"My teammate and I had such a wonderful time doing the race," said another participant. "We are so appreciative of the many man-hours The Salvation Army put into designing, organizing and executing the race. Thank you for this 'most amazing' opportunity!"
This year's race saw the introduction of additional cash prizes for the second and third place winners and single challenge prizes, but also support from "The Amazing Race" recent winners, Anthony and Bates Battaglia.
"The additional support from Bates and Anthony was awesome," Sink said. "It was a great day of fun and adventure and also raised funds for a great cause at the same time."