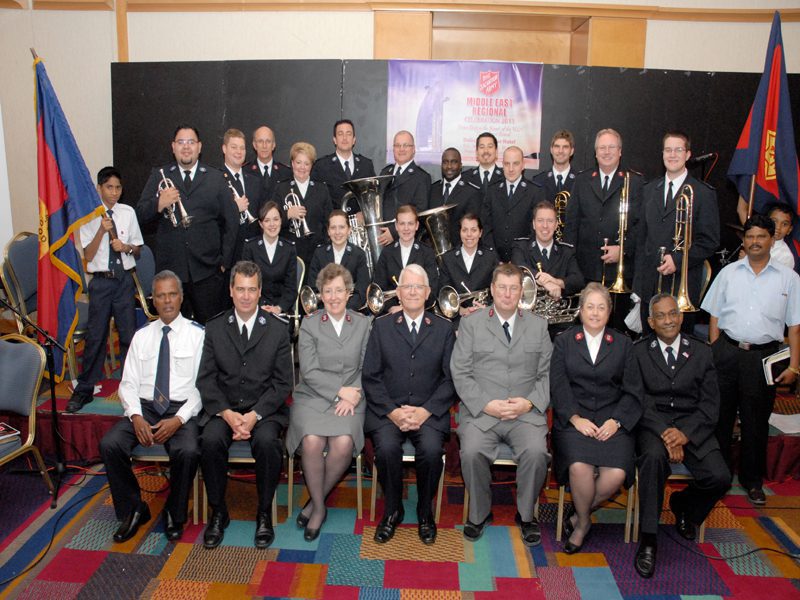 Middle East Salvationists unite in celebration
Southern Territory's Texas Brass Band participates in the events.
More than 260 delegates from the United Arab Emirates (UAE), Oman and Kuwait gathered in Dubai this spring to celebrate the growth of The Salvation Army in the Middle East. Unfortunately, delegates from Bahrain were denied travel visas due to unrest in that country. The Salvation Army has officially been in operation in the region for three years in Kuwait and one year in the UAE.
Joining Middle Eastern delegates at the Deira City Centre Hotel, Dubai, were the Texas Brass Band from the USA Southern Territory, members of the newly formed Middle East Advisory Board and Colonel Ross Gower (under secretary for South Asia, International Headquarters). Regional leaders Majors Mike and Teresa Hawley hosted the celebration.
The Middle East countries—officially designated as a Salvation Army region from April 1—contain devoted soldiers whose faces revealed the joy they felt at being able to worship together. Delegates from Kuwait, Sharjah (UAE) and Abu Dhabi (UAE) led a worship service.
The region's young people are considered a source of particular strength. They demonstrated their passion during a youth service led by members of the Texas Brass Band.
The event served not only as a celebration of the Army's past but also as a consecration of its future. Major Mike Hawley made clear the purpose of The Salvation Army in the Middle East—to be light and salt for a uniquely available group of international people.
At the end of the gathering the visiting band traveled to Kuwait for further performance and worship opportunities. Guided by Kuwait Regional Officers Majors Stewart and Heather Grinsted, in partnership with The Lighthouse Church, the band participated in multiple services and conducted a well-attended concert.
This was the first known visit of a Salvation Army band to these countries and was a great encouragement to friends and soldiers of The Salvation Army living and working in the Middle East. All indicators point to real and extensive opportunities for growth in this new and exciting region of The Salvation Army.
From a report by Colonel Ross Gower