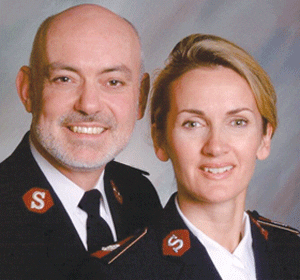 Meet the Munns
Lt. Colonels Richard and Janet Munn will be special guests at Commissioning 2011.
The 2011 Commissioning, "Spirit Aflame," includes a focus on spiritual life development as guests Lt. Colonels Richard and Janet Munn—principal of the International College for Officers and international secretary for spiritual life development, respectively—will present a series of seminars designed to challenge attendees in holy living.
"The USA Western Territory is renowned for its innovative Salvationism," Richard Munn said. "We hope to catch a sense of that creativity, and even add an initiative or two into the mix."
The seminars—scheduled for June 11—include a call to worship, holiness, inner life and life together.
"Jesus Christ is a holy man and died for a holy people, and we Salvationists are among those people," Janet Munn said. "I anticipate the 'Holy-ing' Spirit to move among us throughout Commissioning weekend, doing deep, sanctifying work in the Army of this territory. I am praying for the spirit of wisdom and revelation (Ephesians 1:17), helping us to know him better."
A fourth-generation Salvationist, Richard Munn was born in London, England, but spent the first 10 years of his life in the Congo where his parents were missionary teachers for The Salvation Army.
During his student years, Munn participated in an exchange program through which he worked at The Salvation Army's Camp Wonderland in Sharon, Mass. It was these summers with under-privileged children in a Christian community that God used to effect new birth in Christ and a vision for ministry.
Munn also met his future wife at camp; they were married in 1980. The couple was commissioned and ordained in 1987 as Salvation Army officers in the USA Eastern Territory.
Munn continued his education, and earned a doctor of ministry from Gordon Conwell Theological Seminary in 2004.
Janet Munn is the daughter of a Nazarene pastor and a disciple-making mother. She is currently enrolled in a doctor of ministry program in Spiritual Formation at Ashland Theological Seminary.
Following corps work in Camden, N.J., and youth ministry in Massachusetts, the Munns served as corps officers in Manchester, Conn., divisional leaders in Northern New England, and then at the USA Eastern Territorial Headquarters—he as secretary for program and she as the ambassador for prayer and spiritual formation. Richard Munn also served as the executive officer for the New York Staff Band.
In July 2008, the Munns assumed their current responsibilities. He also serves as secretary for international ecumenical relations, and as a member of the International Doctrine Council. He writes for Good News, The War Cry, The Officer, Word and Deed, The Journal of Aggressive Christianity and The Rubicon, and has taught at Roots in the UK, Canada and USA Southern Territory, as well as On the Edge and the Aggressive Christianity Conference in Australia.
The Munns are the parents of young adults Nealson (26) and Olivia (23). Olivia is now a first-year cadet at the School for Officer Training in New York.