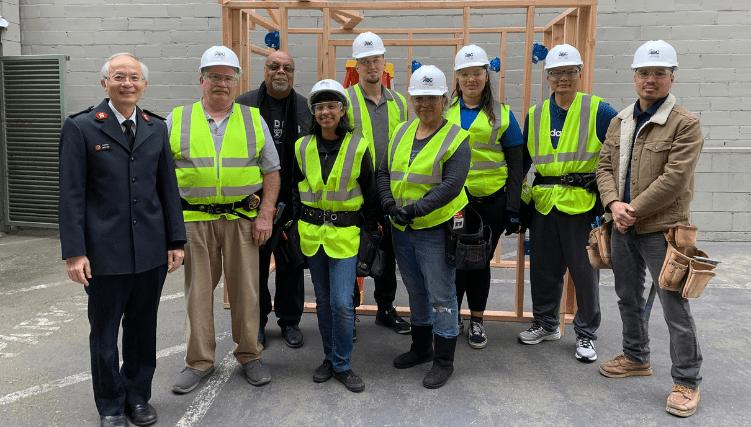 Meet Bob Alex: A Salvation Army employee practicing patience, peace and flexibility
Through busy and sometimes chaotic days, Bob Alex stays grounded in the biblical wisdom,  peace be with you, found in John 20:21. "I've always been a strong advocate for peace," he said. "Without peace, you don't have anything—you don't have joy."
As the HR and Business Manager at the Alameda County (California) Salvation Army Command, he wears many hats, including working with students in The Salvation Army's construction training program. Alex grew up in Southern California—specifically in Compton and South Central LA. During his first semester in college, he was a bicycle messenger for the L.A. Times before joining the military. Following his service, he worked for Pacific Bell for 20 years. He started working for The Salvation Army in 2018. 
Caring Magazine: What inspired you to apply to the Salvation Army?
Bob Alex: I had retired from Pac Bell and started my own program management company for the telecommunications industry called G6 Professional Services. (I named it G6 because I am a proud grandfather of six). I did things like cell site visits and on-call maintenance. One day I injured myself on the job when I fell off the side of a mountain. As I was recovering, a friend told me about the Salvation Army. I studied up on the company history and loved their mission. I've been here since September 2018.
CM: How did your previous job experience prepare you for this role?
BA: The leadership classes I was able to take were invaluable. I also gained a lot of insight through reading "Coach Wooden's Pyramid of Success" by John Wooden and Jay Carty as well as "The One Minute Manager" by Ken Blanchard. I live by the golden rule: treat people how you like to be treated. 
CM: What obstacles have you had to overcome in your role?
BA: There are many interruptions throughout the day. I've had to learn how to be flexible. I've learned how to have patience. The Salvation Army isn't like a lot of other workplaces. They are much more forgiving of people's shortfalls here. I've learned how to slow down and help people with their issues. I give it a good 30 days to see where a new employee is headed before making any decisions. 
CM: How do you help those in the construction training program prepare to enter the workforce?  
BA: We start the class with prayer and have the students introduce themselves. Then we pass out a form, "When I think of a job," which asks four questions: one thing I know for sure, one thing I'm not so sure about, one thing I'm really looking forward to, and one thing I am a little bit concerned about.
Next, we move into preparing for an interview. My coworker and I demonstrate a bad interview and then an acceptable one. Finally, we discuss "dressing for success"…and the proper attire for construction or other positions.
CM: What is your best advice for Salvation Army employees on how to navigate the pandemic at work?
BA: Flexibility is extremely important. We can't assume that we are all at the same place during this pandemic. I ask my co-workers about their extended families and how they are doing. You may not be in a good mood and want to ask those things, but do it anyways. It's about building relationships.
CM: What kind of culture do you like to cultivate at work?
BA: Inclusiveness, professionalism and a sense of fun! You gotta have fun because you are at work more than anywhere else. I like to develop a culture of honesty with good news and bad news. I also stand up and fight for my people if they are not getting what they deserve. 
CM: What is the most rewarding part of your job? 
BA: Seeing the overall result of my efforts, especially when our team feeds the homeless and the children through our backpack program. We provide meals here in Oakland, 22-24 days out of the month. Some of the homeless wait for us every day. It's so rewarding to see the smiles on their faces. 
CM: What is your favorite Salvation Army memory thus far?
BA: My favorite memory is the first time I was able to attend the Christmas event with the children. The Oakland A's came to visit and it was like a fantasyland with games, face painting and lots of fun. I got pictures with the A's baseball players and Stomper. Plus, they gave out tons of toys for the kids. 
---
Do Good:
No matter how hard we try, or how much good we do—it's Interrupt the free flow of junk (e)mail with something

good

.

Get the Do Good Digest

. Join 23k+ people who

care

and get weekly inspiration sent right to your inbox.

his radical, unconditional love that will bring true and lasting

goodness

to our lives. If you've ever stared at the open page, not sure where to start or are wanting to read Scripture in a new way, then this is for you. Get inside the

Caring

Magazine Scripture Study Collection

and find a suite of free, printable Bible studies to guide you through the good Word.

See how you can get involved in the Fight for Good with The Salvation Army.