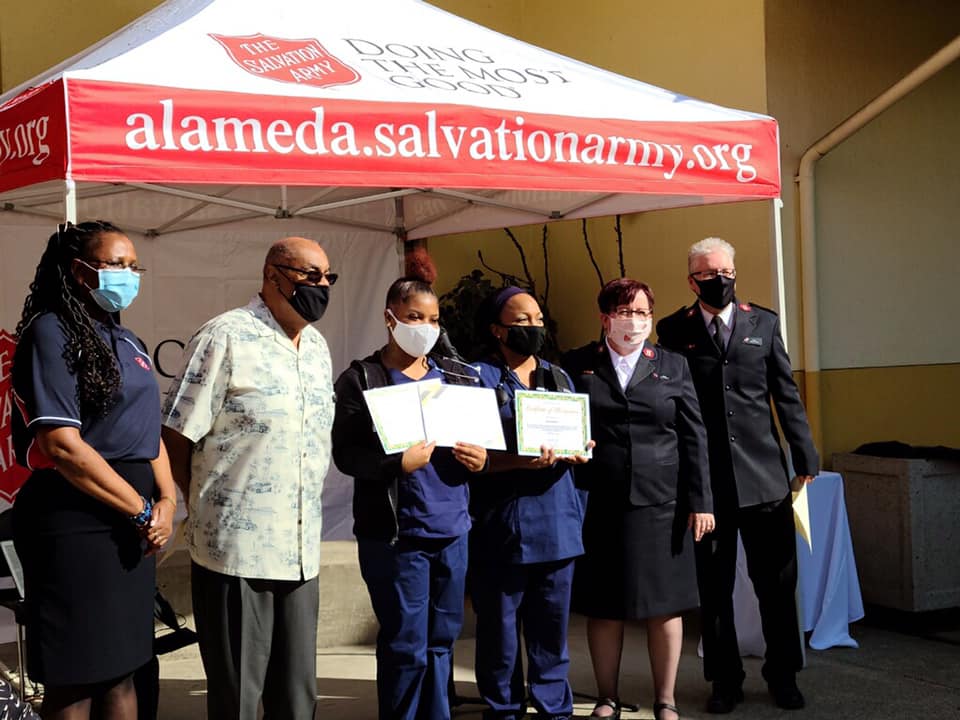 New CNA program in Oakland creates promising future
Shelter and Adult Rehabilitation Center residents find new workforce training opportunity.
During the COVID-19 pandemic, many issues have seen an increase—two of those being homelessness and overburdened hospitals.
The Salvation Army's Oakland Garden Street Center decided to combat both problems at once with a new Certified Nursing Assistant (CNA) program offered to shelter residents as well as recent graduates of the men's Adult Rehabilitation Center (ARC) in Oakland.
At its core, the Salvation Army's mission is to meet human needs and CNAs are aligned in this mission. There has been a desperate need for CNAs during this year's health crisis, so this program is also meeting the needs of the greater community in Alameda County.
As Salvation Army residents strive to get back on their feet, a career where they are caring for others can be a full-circle moment. 
"This program is a way out for most of our residents," said Privilege Chadwick, the center's vocational training coordinator. "It keeps them out of trouble, helps them gain employment and promotes their independence, which is a huge part of the mission at Salvation Army."
Chadwick was hired specifically to cultivate the CNA program at Garden Street, which also provides vocational programs in construction training and in the near future, culinary arts.
The six-week CNA program, in partnership with Quest Nursing Education Center in Oakland, is a combination of online coursework and hands-on training in a simulated hospital lab. Students learn how to use all equipment including heart and blood monitors, and are tested for practical skills. Once they pass all assignments, they are eligible to take the CNA exam with the Red Cross or other licensing company, and can then work in a hospital.
COVID-19 has created some unique challenges for the program. Because of the strict protocols in hospitals this year, students were not able to train with patients.
"Usually we would have all of this training in house, but in this case, we only do soft skills here," Chadwick explained. "Our students were able to do most of it online."
Stacey Eletu, RN, BSN, MSN and administrator at Quest Nursing Education Center, shared about the challenges she faced instructing the students this year.
"When it [the class] is online, Zoom is required, so the Internet is not as fast. Some people might have Internet connection issues and sometimes they are trying to learn with their family in the background," she said.
"It's a different kind of environment," Eletu explained. "Anyone who needs to attend school in this time needs to be applauded."
Students have priority access to the library on site at Garden Street where at least 15 computers are available to attend lessons online. Temperature checks are taken every morning and students must maintain distance and wear masks at all times. The school day is from 7:30 a.m. to 3:30 p.m. and daycare is even provided.
"We have people in our shelters for various reasons. For them to be able to organize childcare, go to school, have lunch with their children and carry on for the six weeks, I think that's amazing, especially during a pandemic," said Chadwick.
Childcare is one of the biggest obstacles preventing residents from moving forward into a career as many of them have little to no family support.
Michelle Hampton, member of the Salvation Army Garden Street (SAGS) Advisory Council and associate professor in The Valley Foundation School of Nursing at San Jose State University, helped set up the program and advocate for that solution.
"I asked at the council meeting if there were some way that [CNA] training might be supported and they mentioned that they have other vocational programs that they sponsor like construction and culinary and a nursing assistant program might be a good addition," said Hampton.
As a result, each student is 100 percent sponsored by Salvation Army donors, which allows resources and support like childcare to be included.
During the last week of the program, students learn job readiness skills including resume writing and interview techniques. The program administrators are also in touch with recruiting agents who can connect students to prospective employers. Companies like the San Leandro Healthcare Center and Elmwood Care Center in the Bay Area have visited to talk with students about their facilities and job openings.
The first cohort included two female students who graduated on Oct. 30 in an outdoor ceremony at Garden Street.
"As a CNA graduate, the experience has greatly increased my confidence and I received several opportunities for employment, one of which I did decide to take in the healthcare industry," said student Kyra Barker.
"My favorite part of the program was the encouragement I received from The Salvation Army. They kept me motivated and supported me," Barker added.
The next CNA program enrollment begins in April 2021 and Chadwick and team are hoping for more interest. They are committed to the success of their residents and will continue to expand vocational training to meet the needs of their residents and surrounding community.
---
Do Good: 
Visit

the Do Gooders Podcast

to catch up on episodes full of ways to get involved in doing good right where you are.

See how you can get involved in the Fight for Good at

westernusa.salvationarmy.org

.

Did you know The Salvation Army served more than 23 million Americans last year fighting hunger, homelessness, substance abuse and more—all in a fight for good? Where can you help?

Take our quiz

to find your cause and learn how you can join in today.