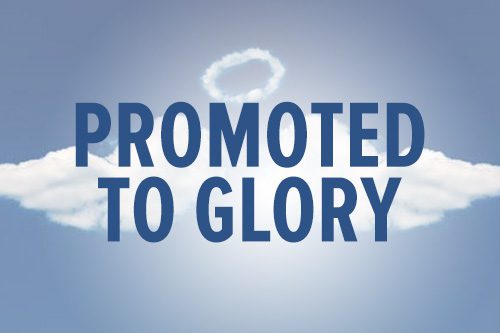 Major Dolores Rivitt, O.F.
Aug. 31, 1927–Dec. 15, 2019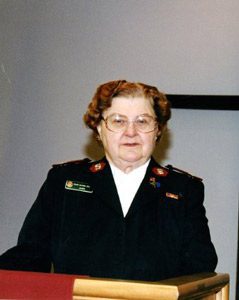 Major Dolores Rivitt, O.F., 92, was promoted to Glory Dec. 15, 2019, from Anchorage, Alaska. A legend in The Salvation Army Western Territory, Rivitt was known for her humility and love for others. She served faithfully in the Alaska Division for decades, both as an active officer and in retirement. 
Rivitt was born Aug. 31, 1927, in Crookston, Minnesota to Leon and Mabel Rivitt. During her childhood, the family relocated to Washington, where in the late 1940s, Rivitt was invited to The Salvation Army Bellingham Corps. While there, she felt called to serve the Lord by helping people. She attended The Salvation Army School for Officer Training in San Francisco and was commissioned in 1950 with the Standard Bearers Session. 
Her first appointment was to Sitka, Alaska. In addition to Sitka, she served in corps in Juneau, Anchorage, Kake and Ketchikan, plus appointments at divisional headquarters in Anchorage, for roughly 35 years in Alaska. While she considered Alaska home, Rivitt also had appointments in Kalispell, Montana; Fort Collins, Colorado; divisional headquarters in Portland, Oregon; and divisional headquarters in San Francisco. She returned to Alaska in June 1983 and served there until her retirement in 1992 after 42 years of active service. After retirement she continued to work at Alaska Divisional Headquarters. 
Rivitt was admitted to the Order of the Founder—The Salvation Army's highest award—by General John Gowans in 2000. Previously, in 1991, she received the Certificate in Appreciation of Exceptional Service, presented by then-Commissioner Paul Rader.
"To serve in Alaska successfully you have to get to know and love the people," Rivitt had said. "Learn about their culture. Enjoy the beauty of the land." She was adopted by the Tlingit people and given the Raven name, "Shaawaat Tlein" in recognition of "big love" for the people. 
Rivitt was preceded in death by her three brothers: Lowell Rivitt, Lyle Rivitt, and Leon Rivitt, Jr. She is survived by a niece, Lanelle M. Rivitt; two nephews: Lyle Rivitt Jr. and David Rivitt; an adopted grandson, Jordan McCulley; and goddaughter Dolores (Murray) Svenson.  
A service was held Jan. 10 at The Salvation Army Anchorage Korean Corps and a celebration of life service was held Jan. 25 in Kake. In lieu of flowers, donations may be made to The Salvation Army Alaska Division, P.O. Box 101459, Anchorage, AK 99510.