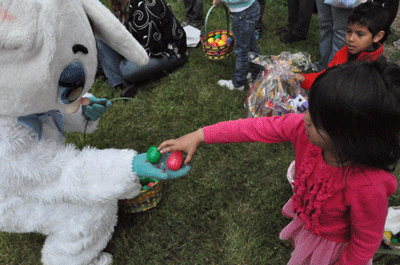 Lytton Springs ARC welcomes community for Easter fun
Annual event has seen dramatic growth in recent years.
By Cindy Engler
More than 1,000 children, ages 2 to 12, swarmed the grand lawn at The Salvation Army Adult Rehabilitation Center (ARC) in Lytton Springs, Calif., for the annual Community Easter Egg Hunt and Celebration on April 23.
In less than three minutes, the children collected 9,000 eggs!
"We had an amazing turnout," said Captain Jonathan Russell, administrator trainee for the Lytton Springs ARC. "The Salvation Army has been a part of the Healdsburg community since 1904. By hosting this event we're opening our home to our neighbors and supporters, and there's no better time to do that than at Easter."
The annual event has grown in recent years, from 500 people in 2009 to approximately 2,200 people in 2011. This year, guests enjoyed activities including Easter basket giveaways, appearances by the Easter Bunny, face painting, a bounce house, super slide and a BBQ.
"How appropriate that the Lytton Springs ARC hosts this Easter Egg Hunt. The egg is a symbol of rebirth of man at Easter time. The ARC serves as a place where men and women are reborn from alcohol and substance abusers to true believers in Christ," said Major John R. Reed, Bay Area coordinator for The Salvation Army ARCs.
The Lytton Springs ARC is an actual ranch, sitting on 600 acres just north of Santa Rosa.