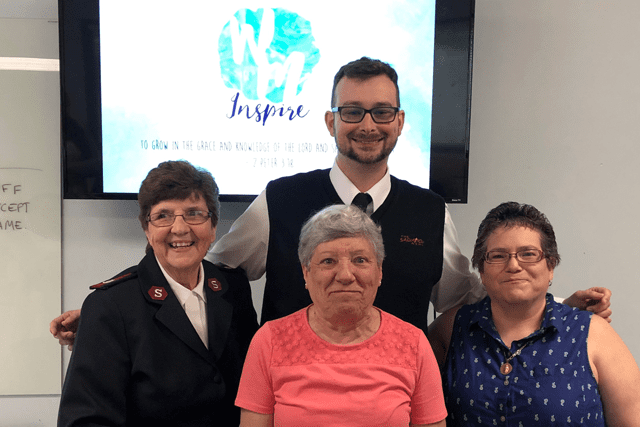 Love makes room—unexpected women's ministry leaders
By Jolene K. Hodder, Commissioner –
When I was a child, there were always visitors in our home. Those who came to our door were frequently invited to stay and eat. Chairs were added to the table, my siblings and I were told to scoot closer together, and Mom would always find enough food to more than satisfy the crowd. The furniture was moved back to make space for visitation, and occasionally entire rooms became makeshift accommodations for unexpected guests. It took flexibility and sacrifice, but my mom taught me that love always makes room.
Recently I read reports about eight men officers in the Western Territory who also know how to make room. Despite days packed with business, programs and community responsibilities, they have opened their hearts and ministry to women's groups in their corps.
"If the Lord brings you an individual, then you must live up to his appointment in your life and in theirs."
That's what Lt. Larry Carmichael told me. When he arrived at the San Rafael (California) Corps in 2017, only two ladies were attending the program. He believed the Lord had appointed him to partner with the women in developing a women's fellowship. Although he is quick to admit he still fumbles and is learning as he goes, he aims to fulfill his appointment in their lives.
Lt. Raymond Morris, serving in The Dalles, Oregon, said he is motivated to lead women's ministries because he believes it is his duty as a single officer to be the spiritual leader for everyone in the corps.
Certainly, there are challenges.
"The women felt awkward, and some did not show up to meetings," said Yakima (Washington) Temple Corps Officer Lt. Ivan Landeros about his initial efforts. It took love, patience and persistence for the group to accept him, and now the women's programs are growing.
Carmichael said no matter how empathic or kind he might be, he cannot reach the women in the same way a female corps officer might.  So he has established a lay pastor for the ladies. Hanford (California) Corps Officer Captain Luke Betti formed a committee of women to help him plan programs that would meet their needs. In Grays Harbor, Washington, Corps Officer Lt. Lincoln Hawk said he often must rely on his wife's wisdom. But he believes "people want to be loved, they want to be heard, and they want to grow spiritually." He said he has learned that it is powerful to have a man lead the program, because it gives the ladies a different angle—a different perspective—and it gives them male support, something that isn't common in most churches.
While they realize their limitations in overseeing women's programs, these men have determined that this will not stop them from pastoring the flock the Lord has given them.
And they are creative! Bellingham (Washington) Corps Officer Captain Jonathan Woollin hosts "Armchair Tours" featuring Australia, Hawaii and Washington, and he recently shared a program on how scrapbooking started with the Bible. In Hanford, Betti encourages his women to get out in the community. They host cooking demonstrations at a women's shelter, pick up trash in their neighborhood, and even attend classes at Home Depot to learn more skills.
The women are not the only ones who benefit. Captain Joshua Sneed, Long Beach (California) Citadel, believes God gave him this "divinely appointed" ministry because he knew how much it would help him. Sneed said he will never be the same.
It would be easy for these officers to let the women's programs run themselves or even allow their corps to go without a ministry to women.  Instead, these servants have intentionally made room for this holy work. My mom would be proud of them.
When asked if he had anything to share, Redwood City (California) Corps Officer Lt. Edgar Azueta simply declared, "I am just so proud of the Home League here in Redwood City!"  
Making room takes flexibility, sacrifice and clearing away that which limits ministry. So make room, open yourself up, and then stand back and see what the Lord will do!