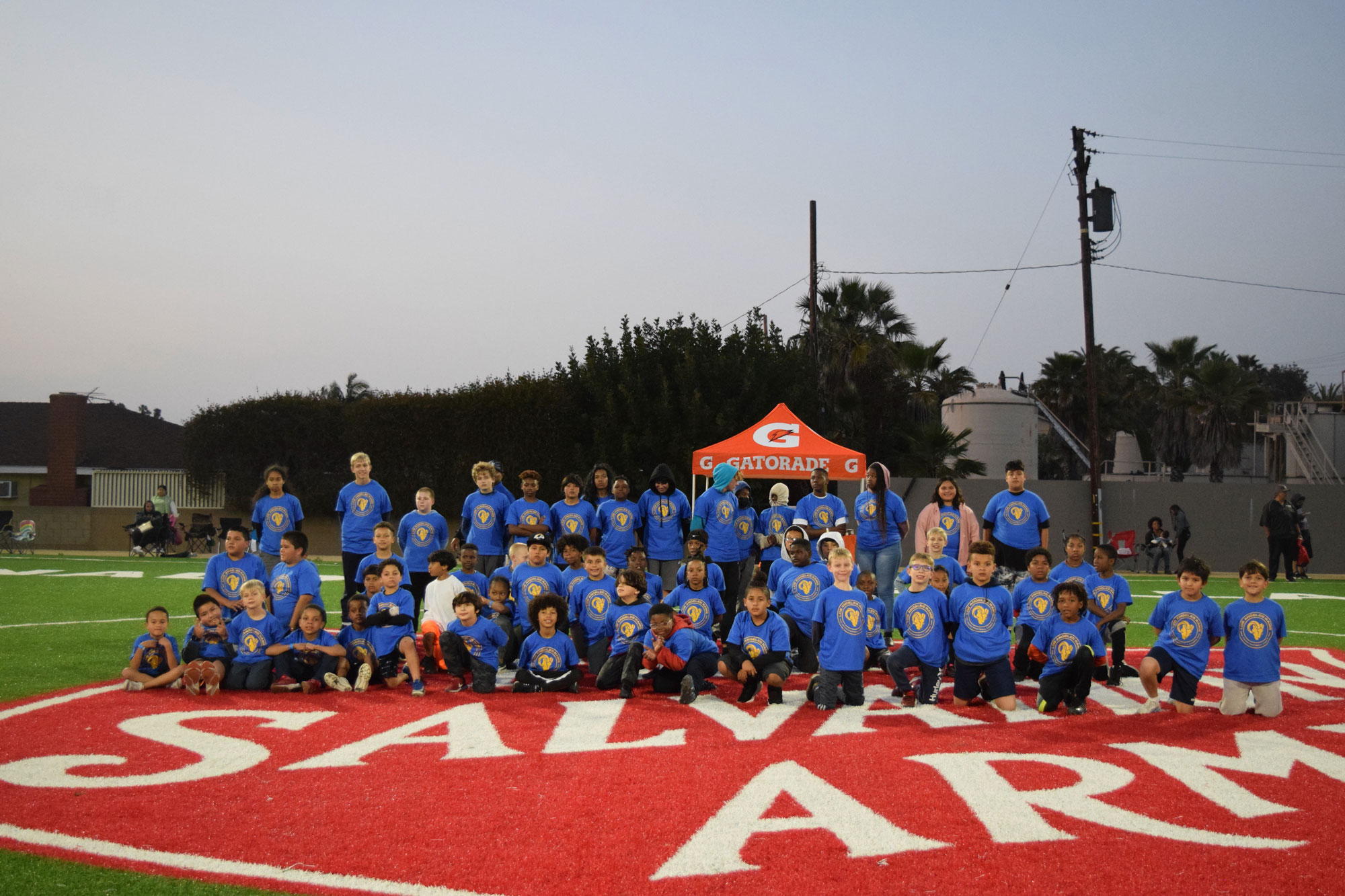 Joy guides the Los Angeles Rams partnership with The Salvation Army in Long Beach
When asked what's been most rewarding about partnering with The Salvation Army during the off-season, Johnathan Franklin, director of social justice for the Los Angeles Rams professional football team, summed it up in one word: Joy.
That joy has led to a growing partnership between the Rams and The Salvation Army's Long Beach Red Shield Center, which provides youth programming, food distribution, as well as church and resource services to youth, seniors and families in Long Beach and surrounding areas in Southern California.
"This partnership has unlocked so many opportunities, from carnival style community events for over a thousand people, to two seasons of Rams flag football leagues, and unique camp experiences," Franklin said. "We have been able to partner together and inspire change, provide hope and unite community members."
The desire to support the Army's mission starts at the top of the Rams organization. Kevin Demoff, chief operating officer for the Rams, was honored with the Judge Harry Pregerson Award for the Rams' "tireless work for the community" at last summer's Sally Awards, The Salvation Army's largest fundraising event in Southern California.
The Rams relocated back to Los Angeles in 2016 after spending 21 seasons in St. Louis, Mo. After their Super Bowl LVI win in 2022, they donated Super Bowl hats for the Long Beach Human Trafficking Task Force's Youth Empowerment Safety Symposium (YESS) event, hosted by the Red Shield Center in January. The Rams also participated in the Long Beach Red Shield Day in March, providing a bounce house and footballs for kids to catch and land in the bounce house.
"There's something special about knowing that others care, that the needs of the community are seen by others, and that those others are willing to respond alongside you," said Captain Jared Arnold, Long Beach Red Shield Corps Officer. "To have a group like the L.A. Rams feeding into the future leaders of the community—our youth—is a special thing."
Some of those young leaders have found participating in Rams events at the Red Shield Center to be a great place to not only interact with caring professional athletes and to learn new skills, but that it can also be a place to make new friends.
"Many of our young people lack the resources to participate in sports of this caliber, and often find themselves in situations they shouldn't be in, due to circumstances beyond their control," Arnold said. "Having a place to go that is safe and supportive, and having the knowledge that there are those like the Rams who believe they can succeed and be more than their circumstances, provides the motivation to do more and achieve more…and we know this will spill over into other areas of those kids' homes and families."
After meeting at the first day of football camp last summer, Arnold said two formerly shy boys quickly became good friends when they had to work together for a teamwork exercise.
"They played together the whole season, and continue to attend our programs regularly," he said. "Sports have a way of bringing people together and building up their confidence. These two young men now help the other kids who seem more shy, and are always eager to assist the coaches."
In fact, participation in the Rams' camps is even more important after the COVID-19 pandemic. The 2022 "National State of Play" report published by the Aspen Institute showed that kids' and teens' physical activity levels dropped to as low as 7.2 hours a week during the pandemic. Now, it's back up to more than 16 hours a week since September, higher than pre-pandemic levels.
The opportunity to meet and train with Rams players also creates hope and meaningful change far beyond the football field. Melinda Lankford, director of programs and development at the Red Shield Center, recalled how a conversation with a local father as his son was practicing led to an even greater connection.
"He shared with me that his wife had died unexpectedly within the past year, and he was so thankful for the Red Shield programs we had going to get his son 'out of the house and living again,'" she said. "The dad had heard about our flag football program through the school district, and as he shared their struggles with me, he and I were both tearing up."
As for the future, Lankford and Arnold have both been in talks with Franklin and the Rams organization to start planning a fall training night as well as the fall season kicking off at the end of summer.
For Franklin, the Rams' work with The Salvation Army all comes back to joy and the smiles on the kids'—and the players'—faces. A native of the Crenshaw district in Los Angeles and a former UCLA and Green Bay Packers running back, his work with youth in Long Beach is personal.
"We will continuously be focused on listening, learning and responding to the needs of the community," Franklin said. "Our goal is to be the greatest community partner in Los Angeles."
---
Do Good:
You've probably seen the red kettles and thrift stores, and while we're rightfully well known for both…The Salvation Army is so much more than red kettles and thrift stores. So who are we? What do we do? Where? Right this way for Salvation Army 101.
How do we treat everyone with love and kindness, as if they were our neighbor? Get the Do Good Family Roadmap and take a 4-week journey for families in how to be a good neighbor. Follow the guide to see what the Bible says about the art of neighboring and take tangible steps together on your printable roadmap to be a caring, helpful, welcoming and supportive neighbor right where you are.
Get on the list for Good Words from the Good Word and get a boost of inspiration in 1 minute a day with a daily affirmation from Scripture sent straight to your inbox. It's an email to help you start your day with goodness.