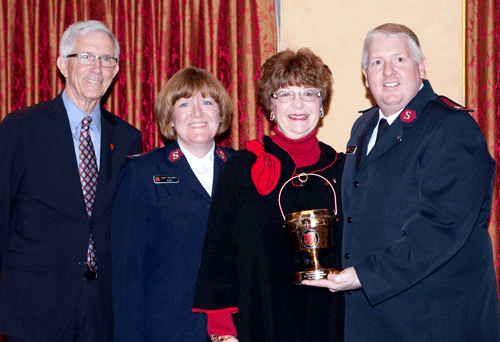 Los Angeles Area Command's Ringing Success
By Robert Brennan
The Millennium Biltmore Hotel in downtown Los Angeles has a long and vaunted history. It was the site of the very first Academy Awards, the Graf Zeppelin flew above it in 1929 on its around the world voyage, and the Beatles made it a destination on their 1964 tour of America.
But on December 8, 2011, history of a different sort was made by The Salvation Army's Los Angeles Area Command. Under the leadership of the Los Angeles Area Commanders, Majors Mike and Cindy Dickinson, and with the help of Master of Ceremonies and KNBC weatherman Frtiz Coleman, and the dedication and commitment from the L.A. Area Command's Advisory Board, the Christmas Luncheon held at the Biltmore had 300 community leaders in attendance and raised more than $180,000 in three minutes…that's $75,000 more than last year!
After being entertained by a Salvation Army brass quartet and piano soloist, attendees of the luncheon got down to work. Months of planning and legwork on the part of the board members and other supporters of the Salvation Army resulted in a three minute session where all the money collected would be deposited in red kettle table centerpieces. Check books came out, wallets were opened, and friends of the Salvation Army participated in a friendly competition to see who could raise the most funds in just three minutes. Honors went to the table hosted by L.A. Area Command Advisory board member Kathy Turner whose table kettle was filled with checks, cash and pledges totaling more than $39,000. And with the overall total coming in at more than $180,000, it was clear who the real winners were…the men, women and children who come to The Salvation Army for help. Just last year The Salvation Army in greater Los Angeles provided more than 800,000 nights of shelter, served meals to nearly 2 million hungry people, and delivered comprehensive care programs to more than 60,000 individuals.
"With the participation of so many friends and supporters like we saw today, we will continue our mission of providing material and spiritual assistance to the poor and underserved," said L.A. Area Commander Major Mike Dickinson.  The program concluded with Major Cindy Dickinson thanking Fritz Coleman who is celebrating his 20th anniversary as a contributor and supporter of The Salvation Army.