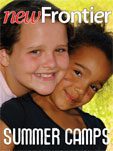 Lending a hand to autistic adults
Salvation Army center in Canada offers unique support
program.
The Autism Centre in Hamilton, Ontario, Canada—run by The Salvation Army Lawson Ministries—has operated an out-of-the-box program to assist adults with autism for the past 10 years. Lawson Ministries has recently financed a new building, which will serve up to 140 people.
Funded primarily by the province of Ontario, Lawson Ministries is an Army agency supporting adults with developmental disabilities and autism.
The $2.5 million facility will provide services tailored to each individual's goal, whether it is getting a job or learning to make decisions. It will accommodate 30 to 35 people a day and will include a therapeutic sensory room designed to help calm agitated members.
Before joining the program, participants must first become members—this allows staff to efficiently track each one's curriculum and progress. Although membership is free, some classes do require fees. However, according to Lisa Schumph, program manager, funding is often available.
Because autistic adults are not afforded structured activities like autistic children are, they have a tendency to become isolated from their community.
Schumph said the goal is to "have people with autism be more involved in their community…many get very anxious in social situations." And when they are successful, "That's a success for us."
The center receives client referrals from a central access point for developmental services; every applicant must have medically diagnosed autism. When a referral is received, staff meets with the adult to review their goals.
"If it looks like we can provide help, then we set up an individual plan," Schumph said.
Personalized strategies are developed for specific occupations with all the steps to get there, including social skills development such as learning to make eye contact and small talk, which can be difficult for some autistic adults. Steps may include on-the-job training, so
the center operates a café—open to the public—where its autistic members work.
The staff fully expects the new campus to be up and running by Sept. 2010.