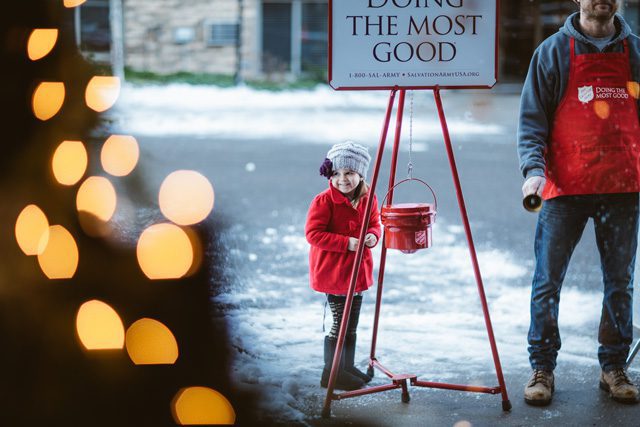 Learning from kettles past, staging for breakthrough
Western Territory collects best ideas and essential resources of successful kettle programs to share in a new way and support a standout season in 2019.
Every year, corps dust off their iconic red kettles in hopes of raising enough money to cover the wide range of programs offered by The Salvation Army across the Western Territory. And every year, some corps celebrate record numbers while others are dismayed by low performing locations or poor volunteer turnout.
With total kettle income down 3 percent from 2017 to 2018, the territory is turning inward this year, collecting and sharing best practices and lessons gleaned from those who do the hard work of running a corps kettle program in order to make the 2019 kettle season a standout year. It's especially pertinent this year as a late Thanksgiving date makes for less days to ring the bell.
It all began with a 32-question survey of corps officers and key kettle staff. And while the survey provides key data on volunteers, rising costs and the importance of kettle locations, long-time bell ringers also know there's no substitute for personal connection and hard work.
"There's no magic answer," said Lt. Colonel Kyle Smith, Territorial Communications Secretary. "You've got to work really hard, you've got to include people and you've got to start way in advance."
Kettles are on the minds of corps officers year round, said Major Gwyn Jones, Corps Officer in Concord, California, and Major Ken Perine, Corps Officer in Spokane. Both were among the territory's top 10 improved locations by net income in 2018.
"My big thing is you make it a ministry," said Jones, who oversaw a net increase of roughly $40,000 in the Contra Costa County city of about 130,000 people northeast of San Francisco. "It's not a job. It's not just something you do in Christmas season."
More than 100 corps officers and kettle program staff completed the survey about their 2018 kettle season, answering questions about volunteers, rising costs and kettle locations. They shared stories of how the little things—bringing a volunteer coffee, delivering a heartfelt thank you gift to a store after the season ends, fostering competition between bell ringers—can really add up.
Insights revealed
Just over half of survey respondents said both kettle costs and income rose in 2018. Minimum wage was a main driver of cost increases for a third of respondents while another third were able to decrease costs by bringing in more volunteers.
Volunteer recruitment saw a healthy bump, with 70 percent of respondents saying volunteer participation increased in 2018. More volunteers was the leading factor listed by corps that brought in more money last year.
Territorial data shows 30 percent of kettles were manned by volunteers in 2018 (up 2.3 percent from 2017), which resulted in 48 percent of the overall net income.
One respondent said posting pictures and videos on social media of volunteers ringing the bells was a key recruitment strategy to both recognize the volunteers and promote a fun service opportunity.
Jones said he takes time to get to know all of his bell ringers, including praying with them, surprising them with cookies on site, or supplying them with socks or wooly hats during the cold weather.
"As they get cared for and loved, they do a better job," Jones said. "Even just sharing small gifts with them, they feel appreciated."
Two thirds of those surveyed do not use a kettle coordinator. But for Perine, who oversaw a net increase of nearly $37,000 in Spokane, an eastern Washington city of roughly 218,000 people, having a coordinator is critical.
"There are two key things: having a kettle coordinator and having a lot of kettle sites," Perine said. "And those sites, they're not going to get themselves. You have to go out and get them."
With reporting by Caitlin Johnston