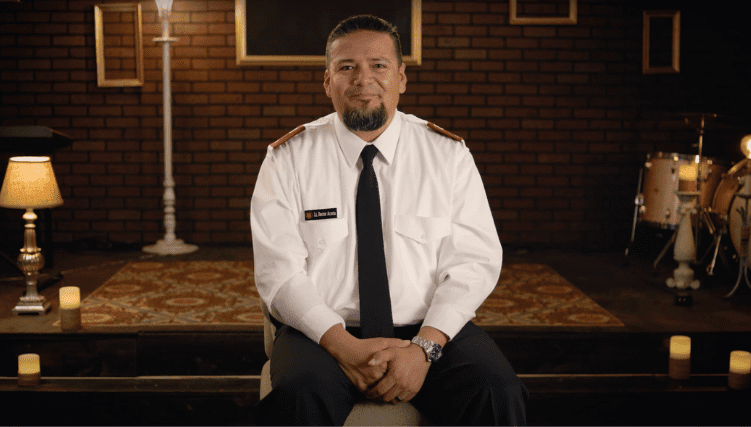 Learn More About God
Curious about God? Interested in getting involved with The Salvation Army? See more about us in Salvation Army 101.
Read the transcript of the video here:
Lieutenant Hector Acosta: Was there something that you saw or heard today that makes you want to know more about Jesus? If so, that's not because we have great production value or a bunch of talent behind the camera here. That's the Holy Spirit talking to you. So, if that's you, and your story is anything like mine, I just want to tell you it's not as complicated as it seems. The way I did it was I told God, "Hey, I want to know you, but I need to know that you're real. So, if you're real, would you reveal yourself to me in a way that I would know?" He showed himself to me through his peace, a peace I've never known before. In the Bible, Jesus tells us that if you seek, you will find. If you knock, the door will be open. And in that example, he's talking about persistence. He's talking about going after that thing. So, if you're curious about God, ask him. Knock on the door. It'll be open to you. He will reveal himself to you. Find yourself a good church, get plugged in. Start reading the Bible. Find a version that you can understand. Start spending some time with God. If there's more that we can do to help, please feel free to reach out, and we'll be available for you. God bless you.
---
Do Good:
See more videos like this in our

video feed

.

You may think your day is too filled to the brim for

anything

more…but it's in his presence that you find rest. Where you are assured God is doing a beautiful work in you. Where you find a way to love—because he first loved you. Get inside the

Caring

Magazine Scripture Study Collection

and find a suite of free, printable Bible studies to guide you through topics from New Beginnings Through Forgiveness, to Understanding our Imago Dei or Life Hacks From David.

Did you know The Salvation Army served more than 23 million Americans last year fighting hunger, homelessness, substance abuse and more—all in a fight for good? Where can you help?

Take our quiz

to find your cause and learn how you can join in today.