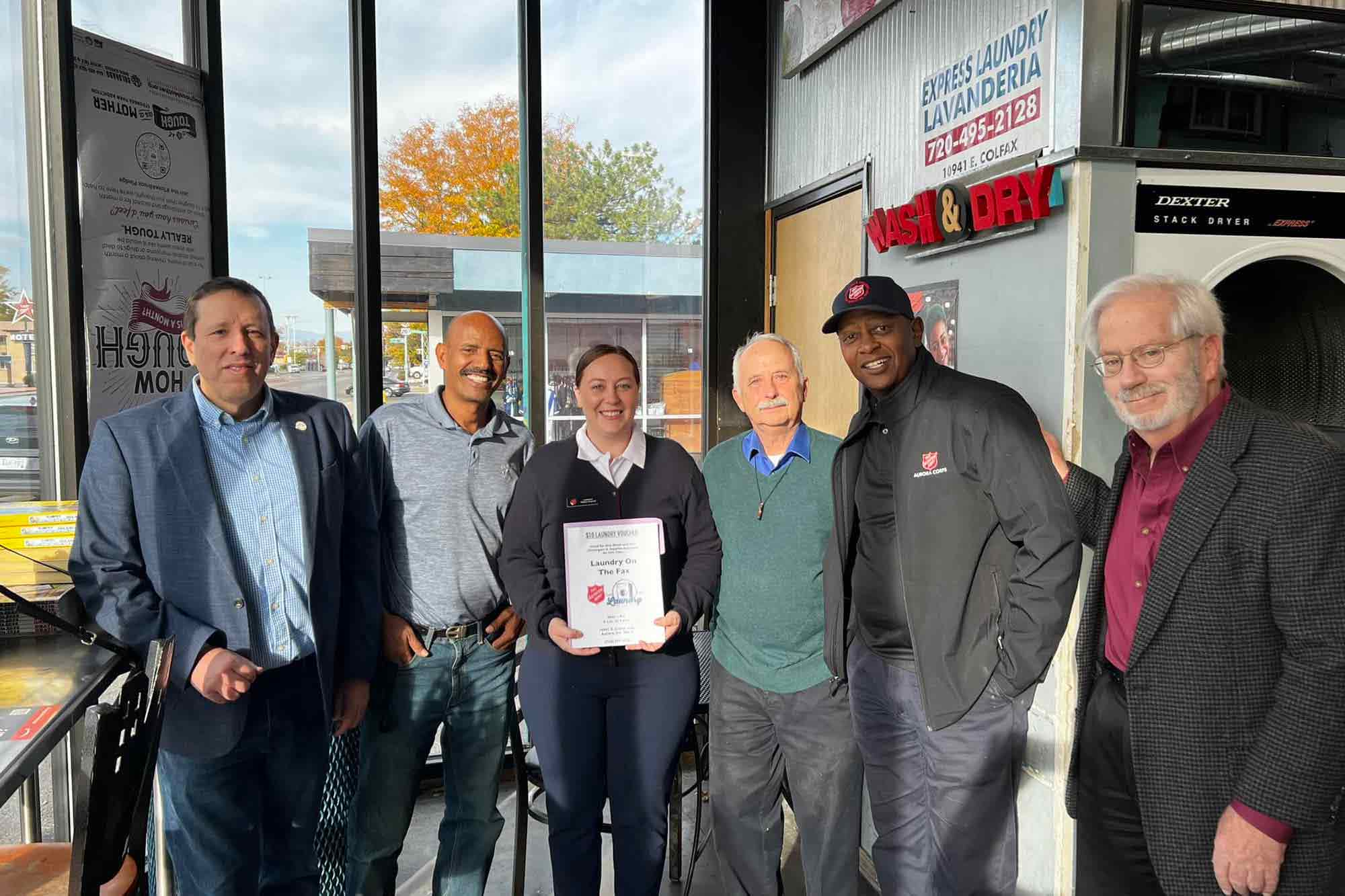 Laundry vouchers bring confidence while filling gaps for neighbors in Aurora, Colorado
Yemane Habtezgi—the owner of Laundry on the Fax in Aurora, Colorado—has made it his mission to help people in need along the Colfax Corridor access laundry services. Recently he teamed up with The Salvation Army in Aurora to do so.
"Laundry is everything because if you have clean clothes, your confidence level is up, your health is up [and] your productivity is up," Habtezgi said. "We don't have a housing issue. We don't have a food issue. We have a kindness issue. The laundry services is a kindness. When you look good, you feel good."
"We all feel better when we have clean clothes and we feel more confident," added Lieutenant Melissa Esquivel, Salvation Army Aurora Corps Officer. "It brings that dignity and helps fill in the gaps financially for families who are struggling to barely make it."
Together with Bob Hagedorn, Executive Director of local nonprofit Fax Aurora, Habtezgi secured $500 in funding from the City of Aurora Office of International and Immigrant Affairs to offer laundry vouchers to low-income residents, immigrants and refugees.
The remaining gap? They needed someone to distribute the vouchers.
Hagedorn approached Rich McLean, a Salvation Army Aurora Advisory Council member, who suggested the corps for the initiative. And in October 2022, The Salvation Army was selected to distribute the vouchers for free laundry services at Laundry on the Fax to those in need.
"The Salvation Army in Aurora is the place for caring and love of neighbor," McLean said. "Having clean clothes…is a love of neighbor thing. The Salvation Army fits that very well."
The Salvation Army received 25 vouchers for Laundry on the Fax—totaling $20 each—for distribution. The vouchers allowed people to get about two weeks' worth of clean clothes needed for school, job interviews and more.
"The grant allows us to pay the owner of the laundromat," Esquivel said. "He's very nice and he will give them out for free, but we want to honor his business, and he's just got a really big heart for the area where his laundromat is."
McLean and Esquivel said that Aurora's Colfax Corridor is an area of high need—and an initiative like this makes a significant impact on the community.
"The Colfax Corridor is one of the lowest-income areas in Aurora," McLean said. "There is a tremendous need there…We have so many people struggling to pay their rent and to get food and other things that are required to live. This is just a little way to help make sure that the expenses for clean clothes could be covered and the other things that they need can be better accommodated."
"For us, we have families coming in every single day," Esquivel added. "We've got two to three families living in the same little apartment or in a motel room and they're barely making it there… If they already don't have money to have their own home, they're not going to have money to go do laundry."
And the need for free laundry services was evident in how quickly The Salvation Army ran out of vouchers.
"Within less than three weeks, all of [the vouchers] were gone," Esquivel said. "As soon as we started telling people we had them, they went so quickly. There's definitely a need for it."
Recipients of the vouchers noted how impactful that assistance was.
"Some of them mentioned how this makes the difference in choosing between clean clothes for [their] family or buying groceries or paying money toward our bills and keeping [their] lights on," Esquivel said. "It might seem like something small, but it really does add up and make a difference for the families."
Habtezgi has also witnessed the positive response to the vouchers.
"I see they have a smile on their faces, lots of appreciation and the confidence level is always up because other people care about them, too," Habtezgi said.
Currently, the plan is to continue the laundry voucher initiative in Aurora as soon as additional funding is secured.
"The plan is to make it a continuing program," McLean added. "There's so much need out there."
---
Do Good: