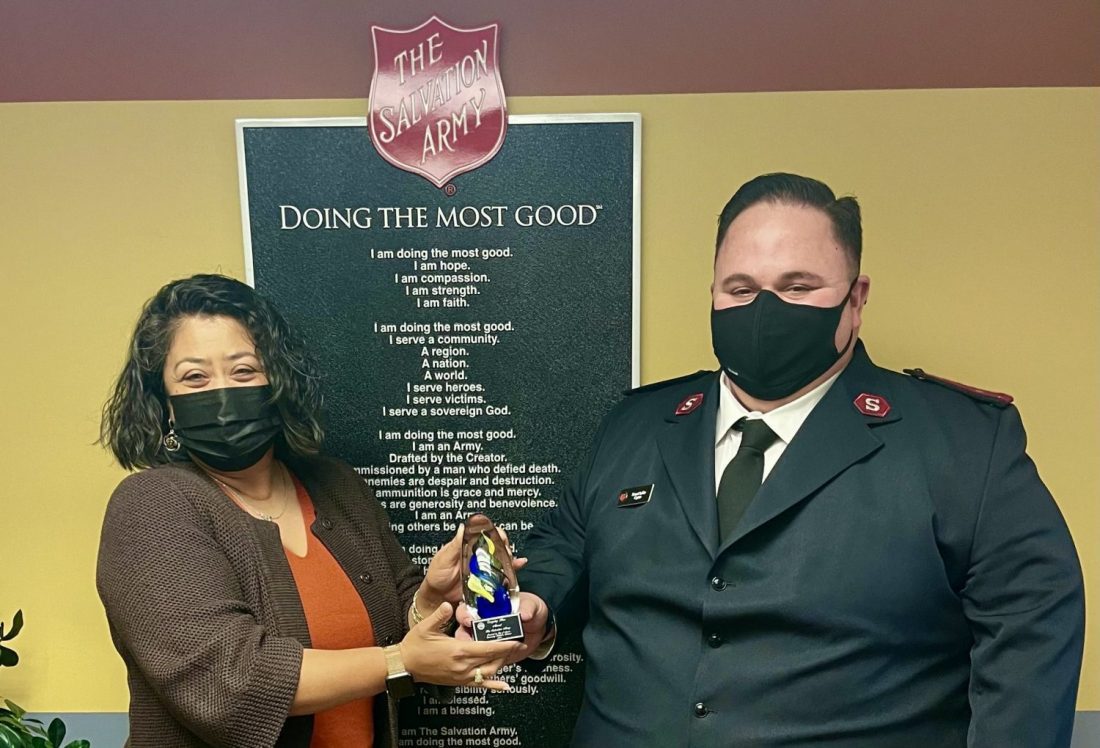 Aurora Corps named 'Everyday Hero' for pandemic outreach
The City of Aurora (Colorado) recently awarded The Salvation Army Aurora Corps, led by Corps Officers Captains Sam and Felicia LeMar, with a 2021 Everyday Hero Award during a virtual celebration of Rev. Dr. Martin Luther King, Jr. event hosted by the Community College of Aurora. 
"We could not let this year go by without honoring…The Salvation Army because of the tremendous partnership we've had with them and the work they've been doing with the city of Aurora," said Aurora Police Department Chief Community Relations Officer Claudine McDonald. 
The city's Community Relations Division selected The Salvation Army Aurora Corps for the award because of its strong partnership with the City of Aurora and commitment to serve the community through various initiatives—especially throughout the COVID-19 pandemic.  
"[The Everyday Hero Award is] really to recognize those typical unsung heroes really who…are in the community, doing the work, and aren't waving up and down, saying 'Look at me! Look at me!'—who are just getting it done," McDonald said. "[The Aurora Corps was] selected because they were available. They were always the ones who were raising their hands all the time, saying, 'We'll be there. We'll support.'" 
Throughout the pandemic, the Aurora Corps served as a partner for several community outreach events hosted by the City of Aurora. This included the city's Commitment to Care COVID-19 programming, aimed at providing food and resources to community members in need. 
"Since the pandemic hit, we knew that the best way we could serve the community was through our existing food pantry and through existing logistics that The Salvation Army has. So as we started serving more and more and more, we started really pushing out to the community we were serving so much more," Sam LeMar said. 
So, when the city reached out with the partnership proposals, the corps agreed to help. 
"Even though we weren't exactly sure how we were going to do it, God provided and we had the resources available and my staff got it done," Sam LeMar said. "It just came down to saying, 'Yes.'"   
It all started with the The Salvation Army providing food for a community event meant to reduce youth crime in Aurora. The corps brought its canteen to the event and passed out cooked meals to everyone who attended. 
"So it's stuff like that where [they] just jumped in and said, 'We have it taken care of. We've got you.' I love that spirit about…The Salvation Army," McDonald said. "It just really meshed well with what we were trying to do in outreach to our community." 
The city also asked the Aurora Corps to partner with them in its Commitment to Care food access programs. In November, The Salvation Army distributed 325 food boxes, dog food, and gift cards to community members impacted by the pandemic on behalf of the city of Aurora. And in December, the corps distributed 1,500 more food boxes and 10,000 pounds of dog food, as well as diapers, baby food, and $120,000 worth of grocery store gift cards. This all happened in addition to the corps' holiday toy distribution.  
After all the hard work, Sam LeMar said it felt humbling for the Aurora Corps to receive the Everyday Hero Award.
"We're humbled by it and we're humbled to serve our community, so we just want to continue to serve," Sam LeMar said. 
He also stressed that everything accomplished and acknowledged by the award was a team effort. 
"We couldn't have done it without our headquarters and the logistics they help provide. As far as our warehousing and buying capabilities, then of course we have our team at the corps level who work on it," Sam Lemar said. "Also, because our advisory council is so strong in the community, they help make a lot of these connections." 
McDonald acknowledged that The Salvation Army Aurora Corps receiving the award is a direct result of all of their "tremendous work." 
"It's one of those organizations that you drive by every day and you don't think about it because you know it's always going to be there," McDonald said. "This is just shining that beacon of light that's always been in our community. We wanted to give them some props because it has really been an amazing partnership that we've formed with them."
Sam LeMar is grateful for the solid partnership the corps has with the city. 
"We bring what we can, and they bring what they can. And we serve those in our community who need it the most," he said. "You're always told about how important community relationships are, but here, especially during the pandemic, we saw how important they were and how important they will be continuing on. There's just endless opportunities that start to [form] from these relationships and they all come down to people who are willing to work together to serve the community." 
---
Do Good:
Do you have a hard time telling people what you do, or what you're passionate about and why? Ever stared at a blinking cursor, unsure of what to say or where to start? Or do you avoid writing altogether because you're "not creative enough"?

Take our free email course

and find your story today. 

Are you a Do Gooder, someone who cares about bringing goodness into the life of your family and community?

Subscribe to The Do Gooders Podcast

with Christin Thieme to be inspired by those doing good and find tangible tips for simple actions you can take today.

See how you can get involved in the Fight for Good

with The Salvation Army

.