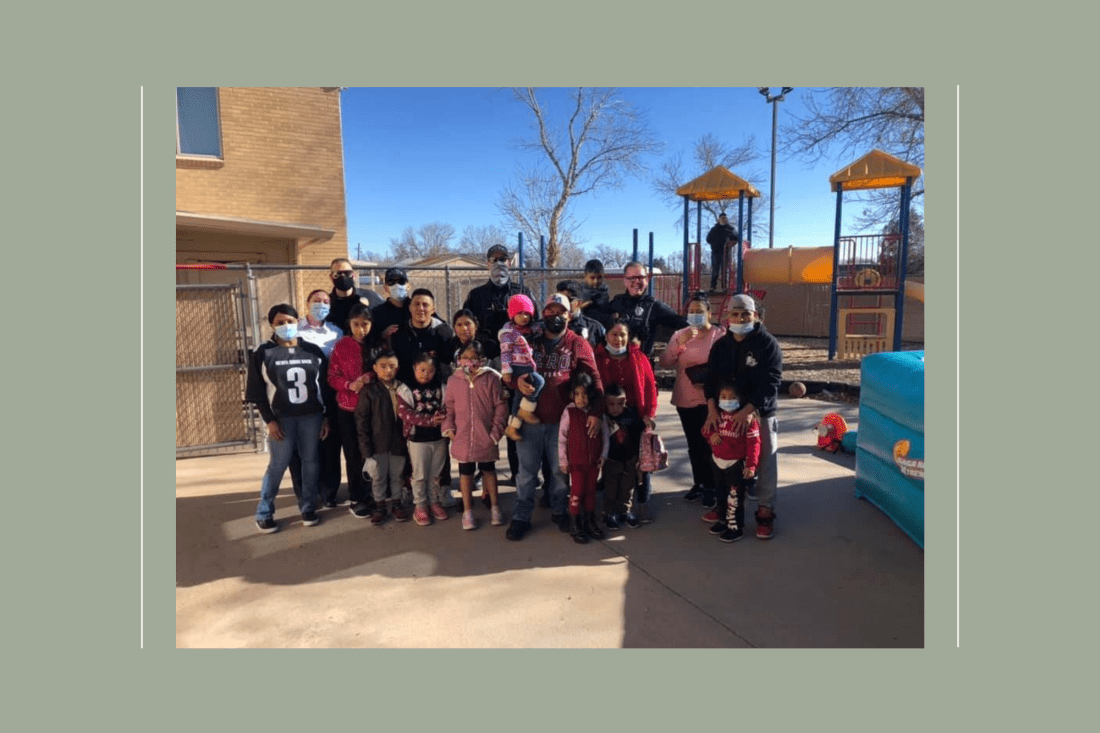 The Salvation Army partners to prevent youth violence in Aurora, Colorado
The Salvation Army in Aurora, Colorado, lies right within the zip codes that have the highest impact of youth violence-related crime, according to city data. So when the opportunity presented itself to help, the corps didn't hesitate.
"We're so close to it—how can we not act and do something about it?" said Aurora Corps Officer Lt. Carl Esquivel. "How can we just sit here and…have all this programming, these resources, this food pantry and not be able to reduce violence with our youth and provide a safe place?"
"We have this big beautiful building and we're like, 'We can do something,'" added Aurora Corps Officer Lt. Melissa (McQuade) Esquivel.
Carl Esquivel also noted a need to do something to build trust between youth and government organizations.
"When we first got here, one of the first things that we saw in the city of Aurora was a discrepancy and a lack of trust between the youth and government organizations," Carl Esquivel said. "We saw that the youth were kind of isolated. They were not trusting of city and government agencies, so then we decided immediately…to ramp up our efforts."
So the corps joined forces with the Aurora Youth Violence Prevention Program (YVPP) last year. The program—which launched in 2021—is a collaborative initiative between the city, the community and local agencies to reduce youth violence by focusing on intervention and prevention.
"The main reason why this program was started was to address the increase in gun violence, homicides among youth and overall violent behavior," said Aurora YVPP Manager Christina Amparan. "The city wanted to take some action."
The Aurora Corps participates in YVPP through multiple efforts, including opening up its facility for regular youth nights and events and functioning as a Safe Haven with mental health resources and service providers in the event of a local violent incident.
It is also a member of YVPP's Community Mobilization Team that consists of nonprofit organizations and faith-based and community leaders working toward building community awareness of prevention efforts, services and resources.
"[The Salvation Army's] facility is right in the middle where this is happening, so us having that connection and that space that we can go and have ongoing community activations is really critical," Amparan said.
The Salvation Army's efforts through YVPP have reached community members. Carl Esquivel and Amparan recalled helping a woman who was an immigrant and was afraid to report a kidnapping to the police.
"We provided resources here in our facility through one of the Safe Haven projects and she was able to report with confidence, having even the police chief present," Carl Esquivel said. "That's, again, our attempts to facilitate and bridge the gap and the mistrust that the people might have with city organizations—not just the Aurora Police Department, the city and government agencies as a whole."
YVPP and The Salvation Army also helped connect a girl whose family was going to be evicted with six months of backpay on their rent and three months of future rental payments. And they helped a participant of the corps' youth nights to secure housing after losing their home in a fire.
"Not only did we prevent young people from being on the streets, but we supported their family," Carl Esquivel said. "It's an all-encompassing initiative. Yes, we're boots on the ground, but we're also offering them the back-end wraparound resources."
Leveraging the resources from both the Army and YVPP have been important to addressing needs of families, Amparan said. Also important? The Salvation Army opening its doors to youth.
"It gives them a space where there's structured time, but it also offers them the opportunity to connect with positive adult figures….that they can go to in the future and ask for help," Amparan said.
"We provide a very neutral safe place for youth to be comfortable, to be themselves, and to not be exposed to these recruitment tactics that violence tends to provoke in the community," Carl Esquivel added. "We're definitely in that prevention process and being able to plug them into all the resources and support with the partners that we have."
Additionally, Melissa (McQuade) Esquivel said the corps offers youth a vital sense of community.
"We also know that kids, especially with COVID and everything, they're craving community [and] they're craving friendship," she said. "And we've noticed every time that the kids come, they make new friends."
Through it all, Carl Esquivel wants the youth to know they are "unconditionally loved."
"They are loved but then there's also help and support that they can get through our programming, so they are not alone," Carl Esquivel said. "At the end of the day, they have The Salvation Army [and] they have these partners that love and care about them."
---
Do Good:
You've probably seen the red kettles and thrift stores, and while we're rightfully well known for both…The Salvation Army is so much more than red kettles and thrift stores. So who are we? What do we do? Where? Right this way for Salvation Army 101.
How do we treat everyone with love and kindness, as if they were our neighbor? Get the Do Good Family Roadmap and take a 4-week journey for families in how to be a good neighbor. Follow the guide to see what the Bible says about the art of neighboring and take tangible steps together on your printable roadmap to be a caring, helpful, welcoming and supportive neighbor right where you are.