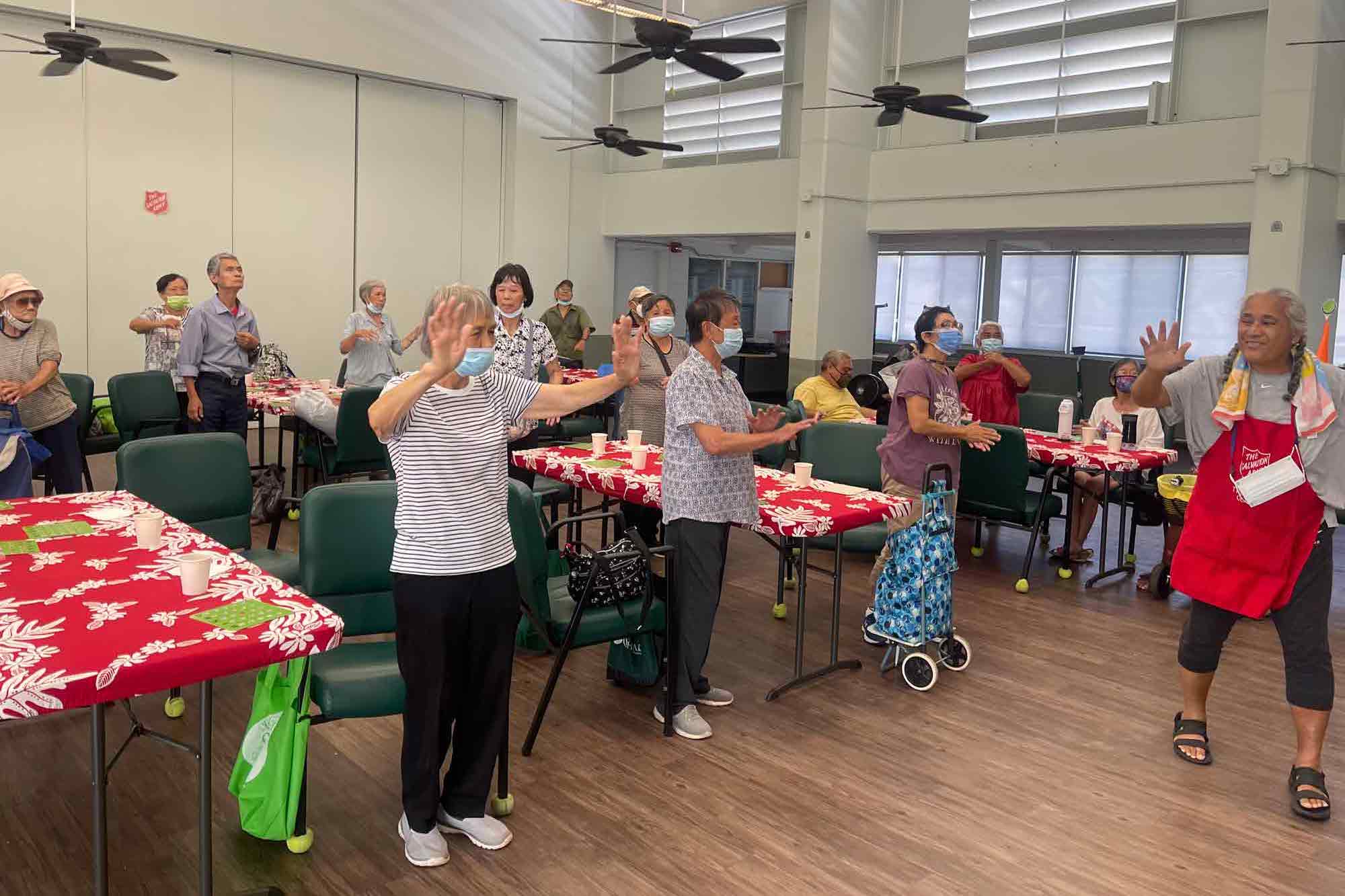 Kūpuna Fun Days aim to bring community, love to Honolulu's seniors
Every Monday and Wednesday, a line forms for The Salvation Army Kauluwela (Hawaii) Corps food pantry. Corps Officer Major Eric Tumale said that among those in line, many are kūpuna (older adults) and a vast majority are Chinese—a growing population in the corps' Honolulu neighborhood.
After reading studies about the detrimental impact of social isolation and loneliness on seniors along with census data that states there are more than 26,000 adults over the age of 65 living alone in Honolulu, members of the corps' Rooted discipleship group knew they had an opportunity to connect more deeply with the population they were already serving through the food pantry.
The result? Kūpuna Fun Days—a holistic senior ministry held on Mondays, focusing on food and nutrition, arts and culture, social activities and spiritual development.
"Recent studies show the adverse health effects from social isolation and loneliness…So we try to provide some activities to increase their health, safety, wellbeing and find community in the Army," said Tumale, adding the isolation and loneliness seniors are facing stem from areas including the pandemic and having their children leave the island for jobs elsewhere.
Tumale said the corps secured funding for Kūpuna Fun Days from the Hawaiian and Pacific Islands Division and began the effort in August 2022. The program ran for three months until the corps switched to its Christmas distribution. During that time, Tumale said the seniors "were so sad," adding that during their face-to-face check-ins at the food pantry, participants were asking about the program. Tumale said Kūpuna Fun Days returned the first Monday in April to excitement.
Each Monday, about 25 participants and volunteers gather for the events, Tumale said. The program includes a craft, bingo, fellowship in singing—worship songs in English and Chinese—a devotional, exercise and lunch, along with coffee and tea. At the end, participants receive their food bag without having to stand in line for it.
Julia Starks, a soldier at the corps, said she was asked by Tumale to volunteer with the Kūpuna Fun Days since she already volunteered at the food pantry and was familiar with many of the kūpunas. While Starks said she doesn't speak Chinese, she said she uses a program on her phone along with sign language to converse with participants.
Starks said she assists Corps Program and Property Management Coordinator Kenneth Yoshikawa with the program, often leading praise and worship exercise for the group. She said that after she observed older adults stretching and walking in the community while she was on her own walks, she told Yoshikawa "let's incorporate this into doing kūpuna day." She said the addition has been welcome—that participants enjoy it. For Starks, giving back is all part of her faith.
"I've been a born-again Christian for a long time, but I found my calling through this church and through the people there," she said. "We're a small group, but we do big things."
For Yoshikawa, the best part of Kūpuna Fun Days is meeting the seniors.
"Even though we can't understand each other when we're playing games or when we're doing exercises, the smile on their faces—it's just priceless," he said.
Yoshikawa said one of the attendees' sons used to be a pastor. He said she always sings along with the worship songs, even when she doesn't understand them, since she speaks Chinese.
"The first time we sang a worship song in Chinese—and we just played it on YouTube—she started crying," he said, adding that she then pulled him to the side and started speaking to him. "I think she was just really lonely, so she just wanted people to be around. She appreciated that we were there."
It's for these kinds of bonds that the corps holds Kūpuna Fun Days, Yoshikawa said.
"We're just trying to be really intentional and genuine with our hospitality and just trying to let them know that we're here. We love them," he said.
Darleen Palmeira said she's been attending Kūpuna Fun Days for about a month, after a member of the corps told her about it.
"The program is short and sweet and you get to have fun and talk with other people," she said. "I don't see anything else in the community like it, so I'm glad they told me about it because they have good prizes for bingo and everybody's a winner because we still get lunch and food to take home."
For Palmeira, the prizes keep her coming back. She said she's won a down comforter, a refillable cup and a towel, but the white whale?
"I keep going back because I need a set of pots," she said, laughing.
---
Do Good:
You've probably seen the red kettles and thrift stores, and while we're rightfully well known for both…The Salvation Army is so much more than red kettles and thrift stores. So who are we? What do we do? Where? Right this way for Salvation Army 101.
Are you best suited to join the Fight for Good in disaster relief? Mental health? Social justice? Take our What's Your Cause quiz and discover where you can make the biggest impact today.