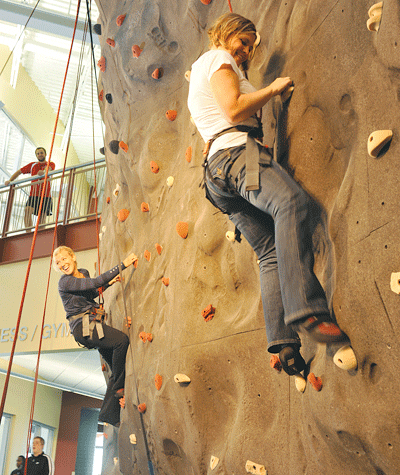 Kroc Center opens in Quincy, Ill.
The grand opening of The Salvation Army Kroc Community Center in Quincy, Ill., brought thousands of community members together Sept. 18.
Following a ribbon cutting ceremony, guests had a sneak peek at the finished product—one they've been waiting to see since the project began seven years ago. Soon-to-be members strolled through the gleaming hallways and admired the grand state-of-the-art amenities—an aquatic center, rock wall, worship and performance center, gym and day care center—that became officially available to the public Sept. 19.
"We want [the Kroc Center] to be a place where people receive inspiration from God's Holy Spirit. We want to inspire families to participate in healthy activities and practices. There is something for everyone here. It is truly a community center, drawing people from every corner of the area and all social classes," said Major Dan Jennings, senior Kroc officer. "The staff is what makes it such an outstanding place to visit. They are simply the best. They have bought into the vision and mission of the Kroc Center and are ambassadors of joy as they interact with the members and guests."
Upon her passing, Joan Kroc left The Salvation Army $1.5 billion for the development of approximately 30 Kroc Centers across the country. The centers are intended to create positive effects on the surrounding areas—strengthening the family and community bonds, bettering the local economy and creating opportunities for members to grow and learn. As part of her gift, she asked that the communities wishing to acquire a Kroc Center be capable of raising half of the money needed for the project, an effort to ensure sustainability.
Watch a video from the grand opening at
https://youtu.be/_Vx8UoVIgvU.