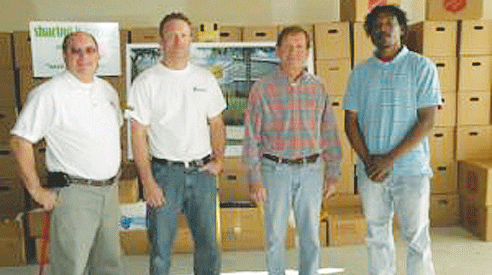 Kroc Center builder offers job training program
For Darnell Stinson, The Salvation Army Ray and Joan Kroc Corps Community Center represents even more than a state-of-the-art recreational and service facility—it represents a new beginning. Stinson is one of eight people to complete a construction training program at Dawson Technical Institute sponsored by Kroc Center general contractor W.E. O'Neil.
"The instruction was great and it really taught me to be patient, to study," said Stinson. "The Majors [Kroc Center Administrators David and Darlene Harvey] are very thoughtful and caring.  I think they enjoy what they're doing, and it shows."
The Kroc Center will create about 220 construction jobs for local residents like Stinson during its two-year construction phase. Once open, it will create more than 200 permanent, full and part-time jobs. The Kroc Center will provide job readiness and training programs. It is also expected to improve the economic stability of the surrounding neighborhood. The Chicago Kroc Center is expected to attract new business, create hundreds of jobs, increase economic stability and lower crime rates. Completion of the Kroc Center is projected for 2012.
Stinson graduated from the program with a 3.8 GPA and is applying for a construction job with W.E. O'Neil this spring in the hopes of helping to build the Kroc Center. He has already been an active volunteer for The Salvation Army for the past two years, providing transportation for kids to after-school activities and for people who attend Kroc Corps worship services.
Stinson knows firsthand the impact the Kroc Center will have on the Far South Side. "The community is in disarray and needs help," Stinson says of West Pullman, the Chicago neighborhood he has called home for more than 22 years.  "The Kroc Center is a step in the right direction and has the potential to change the future of the lives of both kids and adults."
For more information, visit kroccenterchicago.org