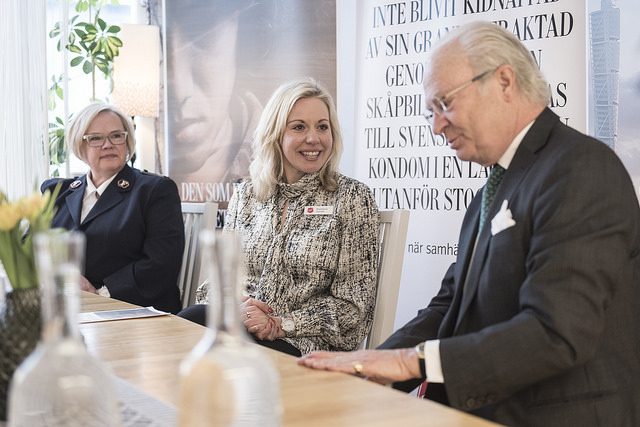 King of Sweden visits Salvation Army center for immigrant women
By Lars Beijer –

The Salvation Army in Sweden hosted a visit by His Majesty King Carl XVI Gustaf to a center in the Stockholm suburb of Akalla. For 21 years, The Salvation Army here has worked to break the isolation and social exclusion that is experienced by many immigrant women, helping them and their children to learn Swedish and find employment.
Commissioner Eva Kleman, Territorial President of Women's Ministries, gave a short introduction and welcome. Jenny Alm, who leads the center, described its work and the needs of the women it serves. One woman, Rahel, told the King about her personal development.
Rahel arrived in Sweden as a 17-year-old refugee having been a victim of human trafficking in Saudi Arabia for five years. After one year in Sweden she went to a Salvation Army shelter and started to study Swedish. Now, seven years after arriving in Sweden, she has found work as an assistant nurse. 

The King visited to meet Madeleine Sundell, Salvation Army's Social Justice Secretary and National Anti-Human Trafficking Coordinator. In 2009, Sundell was awarded the Kompassros [Compass Rose] Scholarship from the King's Foundation for Young Leadership, which is given annually to a young leader who has proven exceptional courage, concern and decisiveness.
"Today I can say that I have followed my dream and been loyal to my values, and I have grown in leadership," Sundell said. "I want to use the law as a tool for social justice and the transformation of vulnerable people's living conditions."
The King then met the foreign-born women who are being assisted through the center. They invited him to join them for coffee and an international cake buffet they had prepared, featuring recipes from all over the world, before Kleman concluded the visit by praying for God's blessing on everyone present.